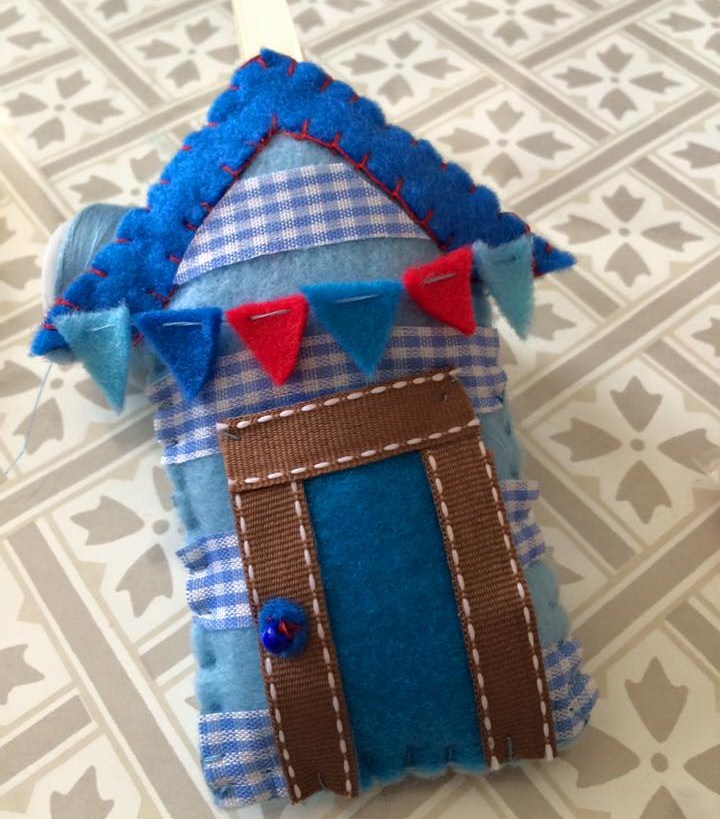 What a beautiful sunny day it has been today! I've been cracking on with some much needed housework, with endless piles of washing to launder and a spruce up with the hoover. All is not so bad though as I've been able to have our huge bay windows open, popping out on the balcony every hour for a tea break overlooking the sea, we are so lucky to live on the seafront! I've lived in Worthing (near Brighton) my whole life, and whilst at times during the winter it can be windy and cold, the lovely spring/summer months definitely outweighs those moments! Sunshine and blue sky, with the fresh sea air is something I absolutely love, I can't imagine not living by the sea!
As inspiration, when me and my boyfriend moved into our beautiful flat in the Summer of 2014, I decided to go with a nautical theme for our bedroom. Blue stripes, beach huts and nautical accessories are everywhere, and today I'm giving you a sneak peek!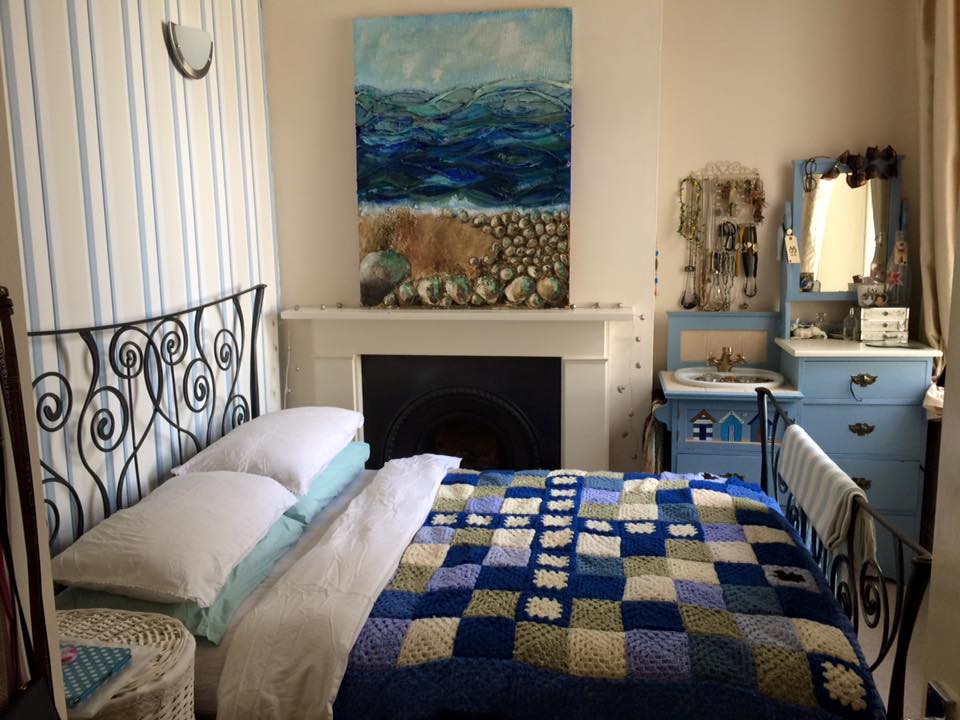 Our feature wall is wallpapered in Eaton Stripe Seaspray from Laura Ashley (the perks of getting staff discount!) , as well as our Serena Seaspray bedding which is currently in the mountain pile of washing I have yet to do!
I found this super cute Beach hut door stop from The range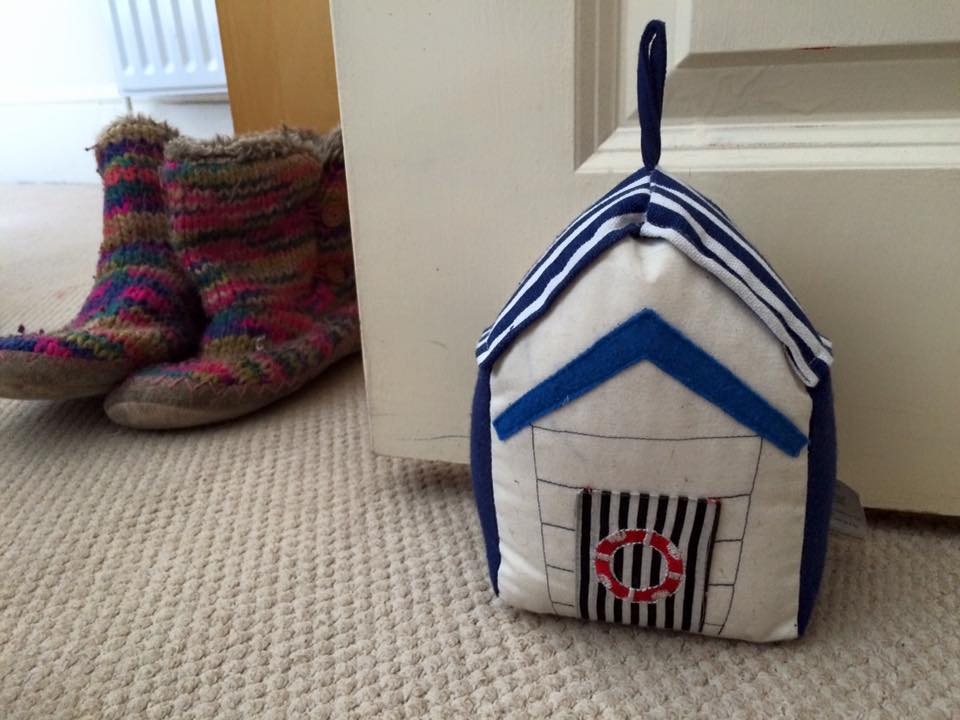 Years ago I bought this gorgeous shabby chic unit from a thrift shop and I recently re-painted it with blue surfaces to match the colour scheme.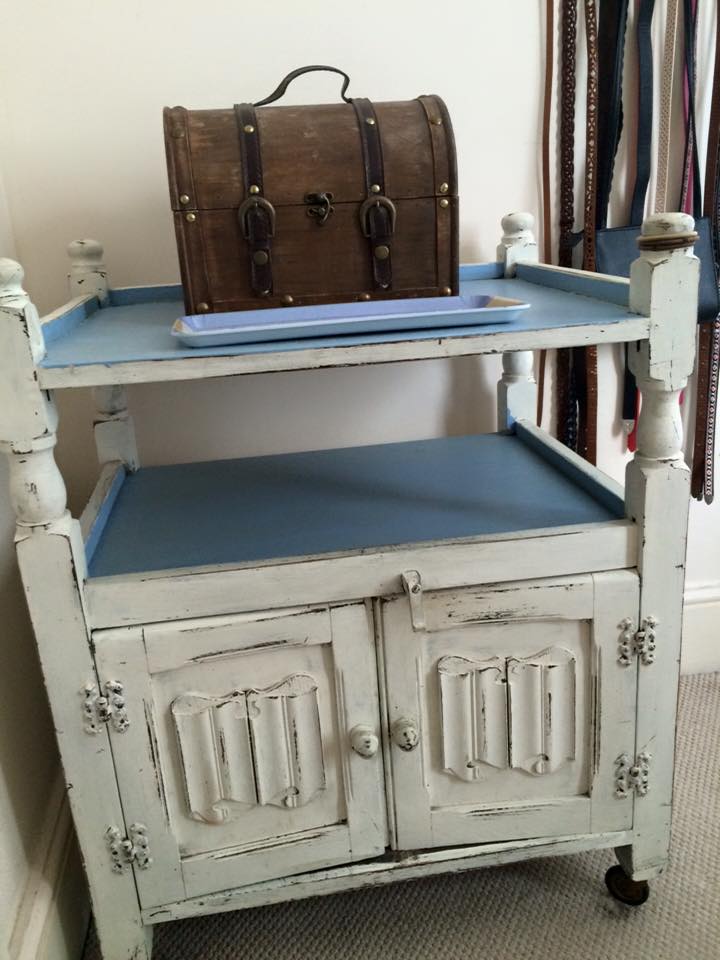 On top is a treasure chest box where I keep all of my treasured photos and keepsakes.
I also purchased this sweet Beach hut tray from The Range.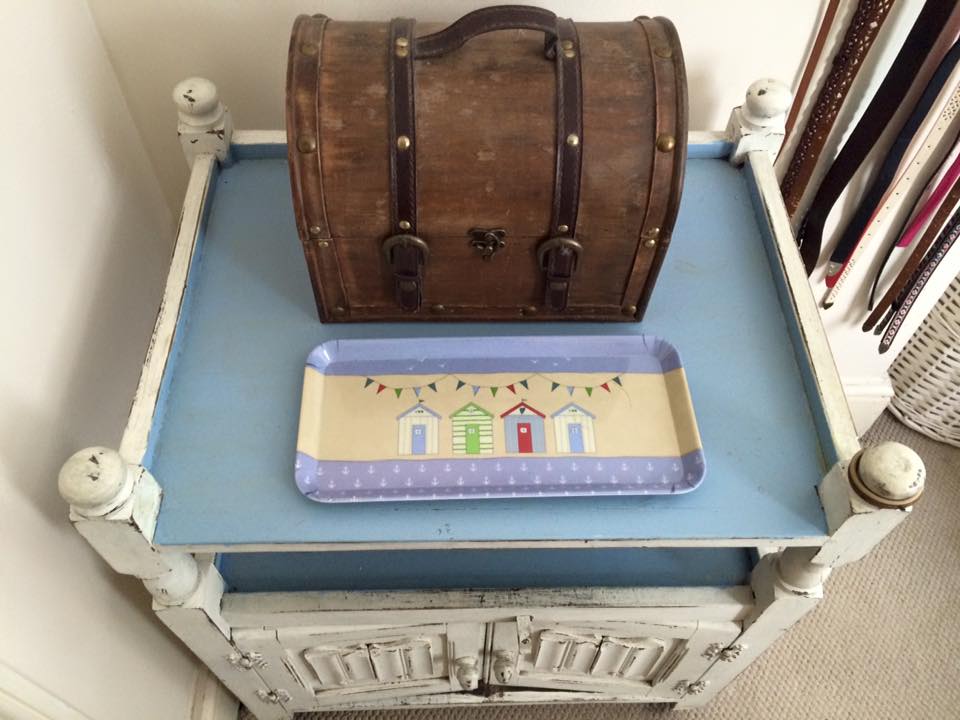 ---
On the wall I made a nautical theme feature with a Beach hut photo frame (for photos from our holiday in Sri Lanka) and some cute wooden decorations either side.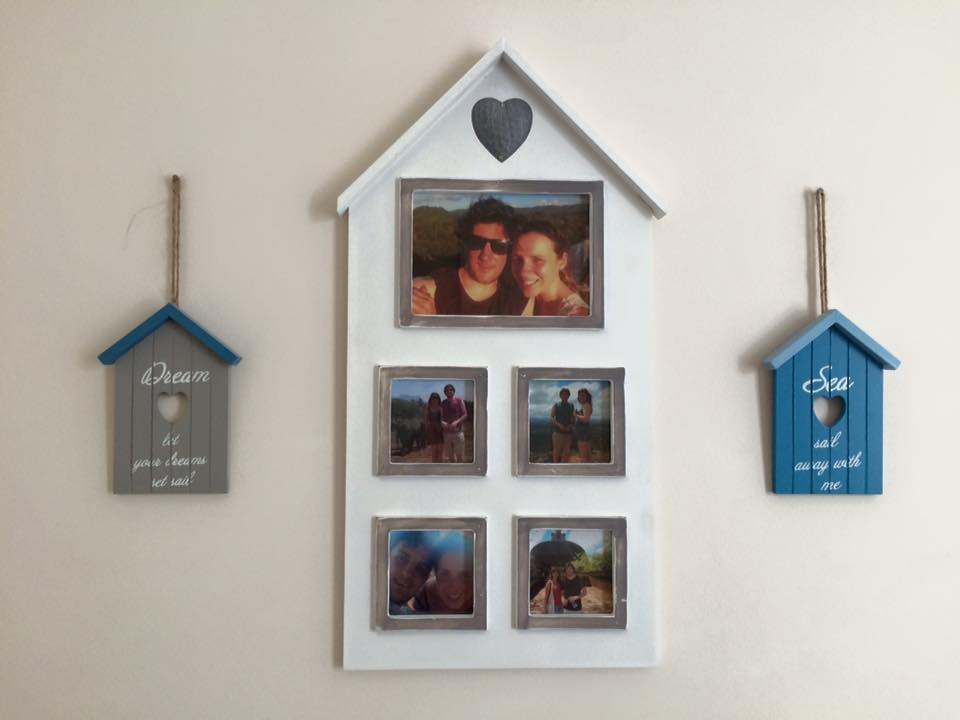 This adorably cute and very handy belt hanger was a must buy from Sass and Belle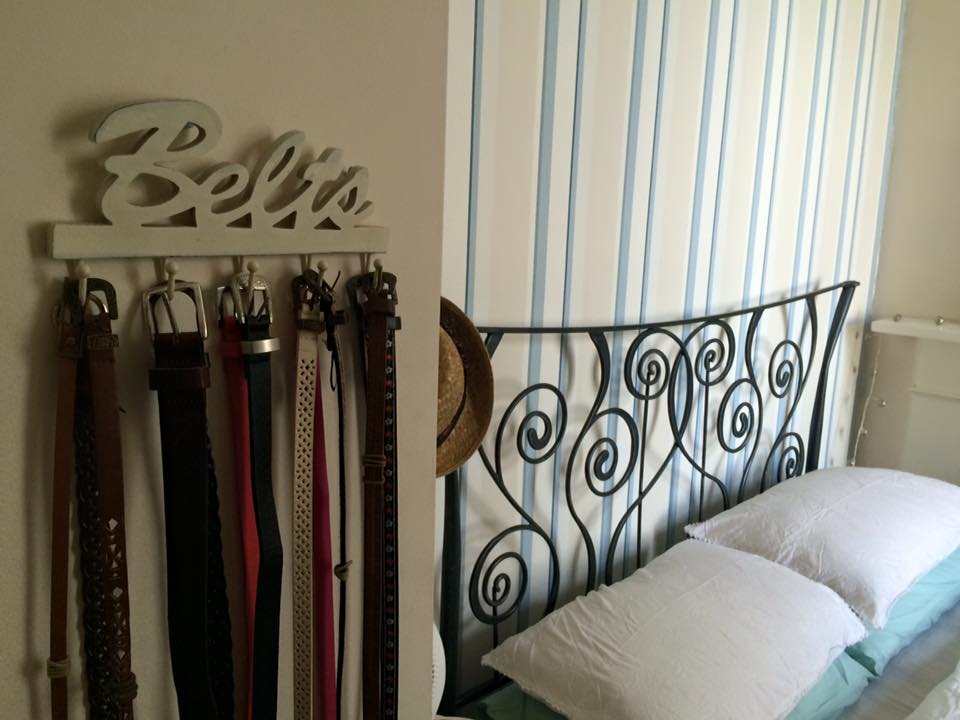 As the main feature of the room, there is my painting that I created as my 12 hour exam piece back when I studied Fine Art in college, a seascape made from many different materials…it's rather large!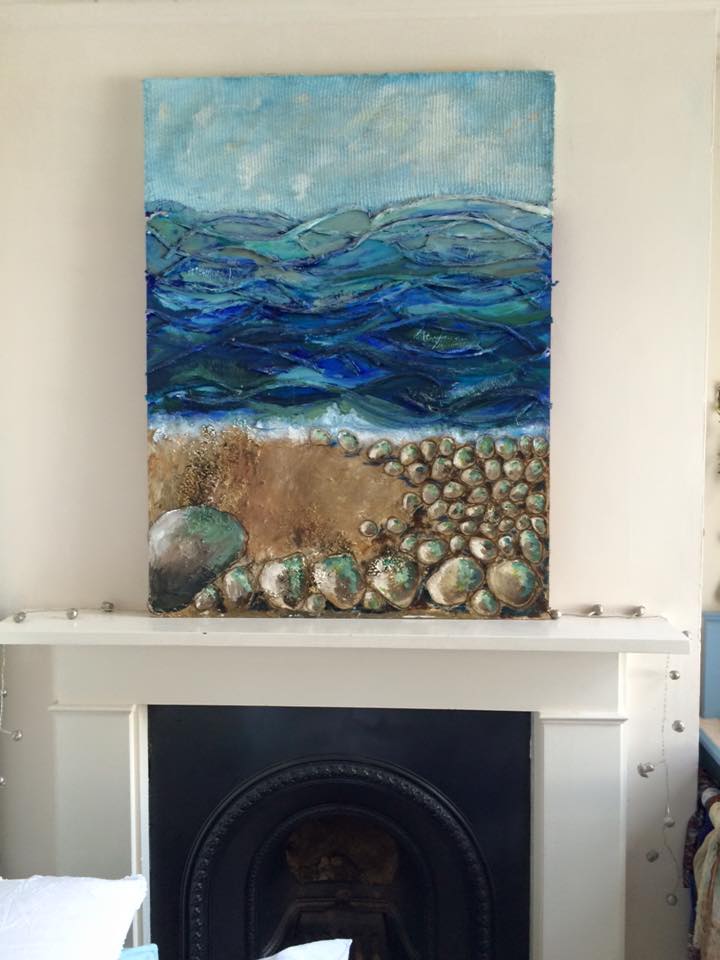 Tucked away in the far corner is my washing unit,  an old piece of furniture that was given down to me from my mum. We once used this as a fully working sink in our old bathroom, and now I have given it a new life by painting it and making the sink a quirky feature adding stones and tea lights.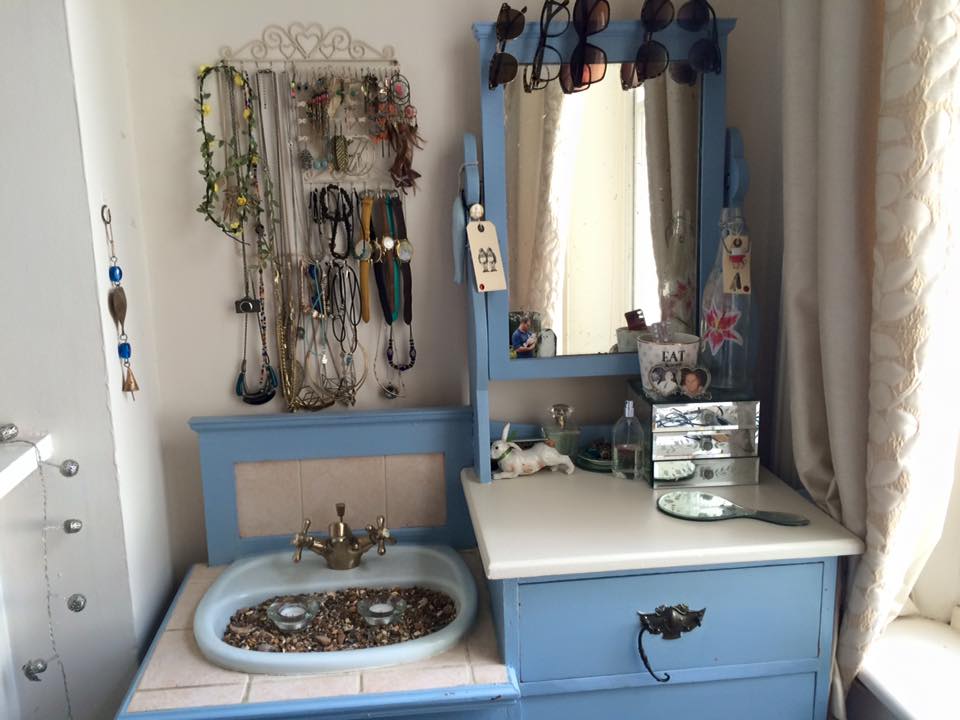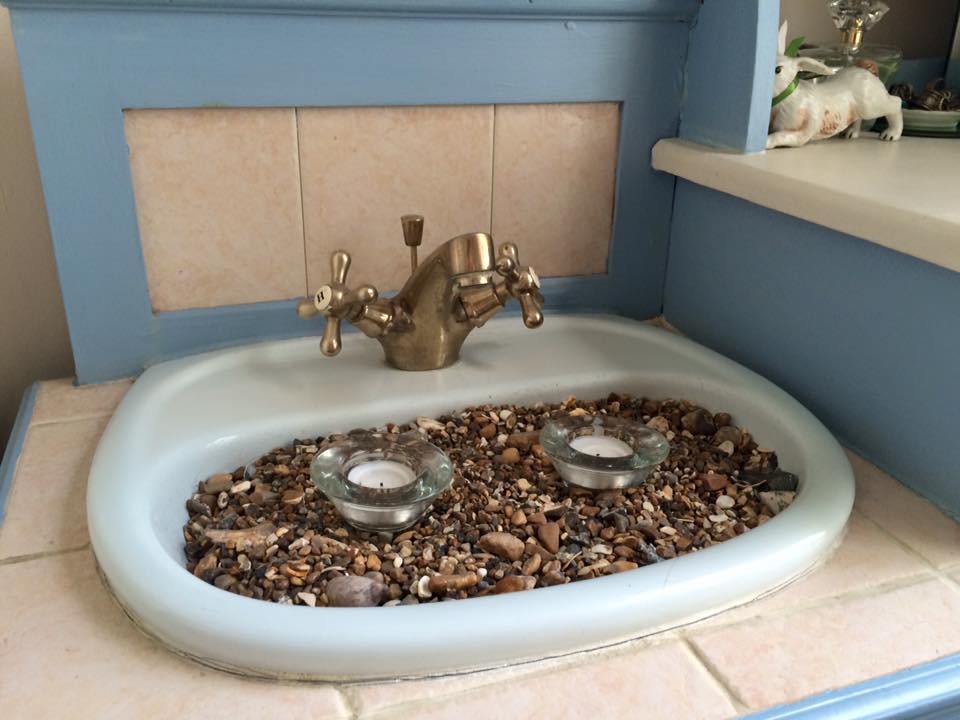 I painted some beach huts on the left side cupboard of the washing unit, to tie in the theme!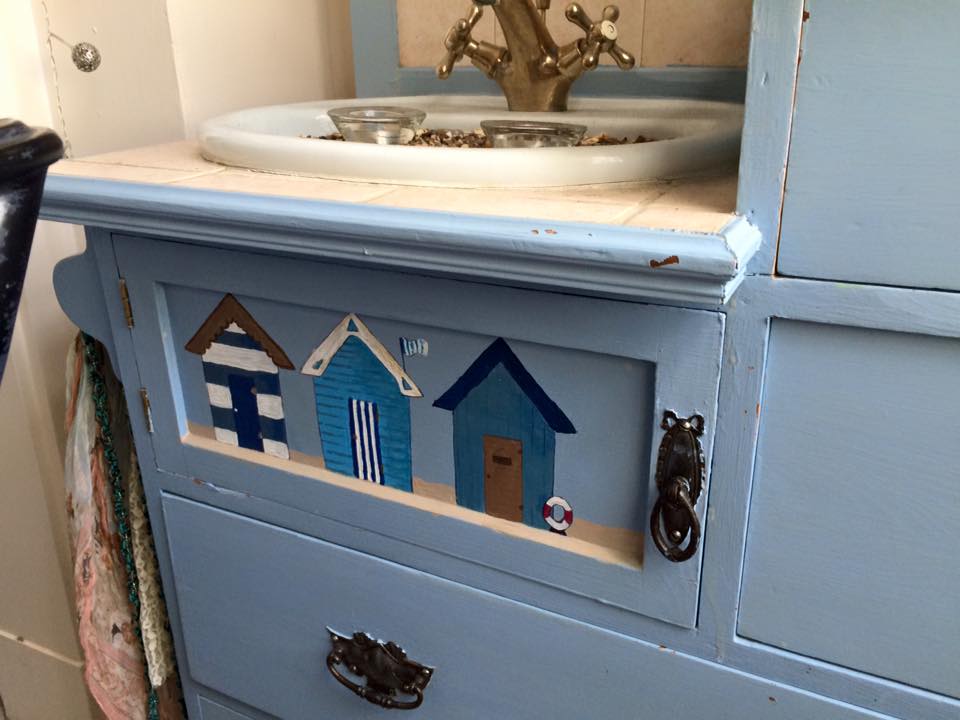 My beautiful crochet blanket was made with lots of love for us from my Grandma who gave it to us at Christmas present, a one of a kind! Perfect colours!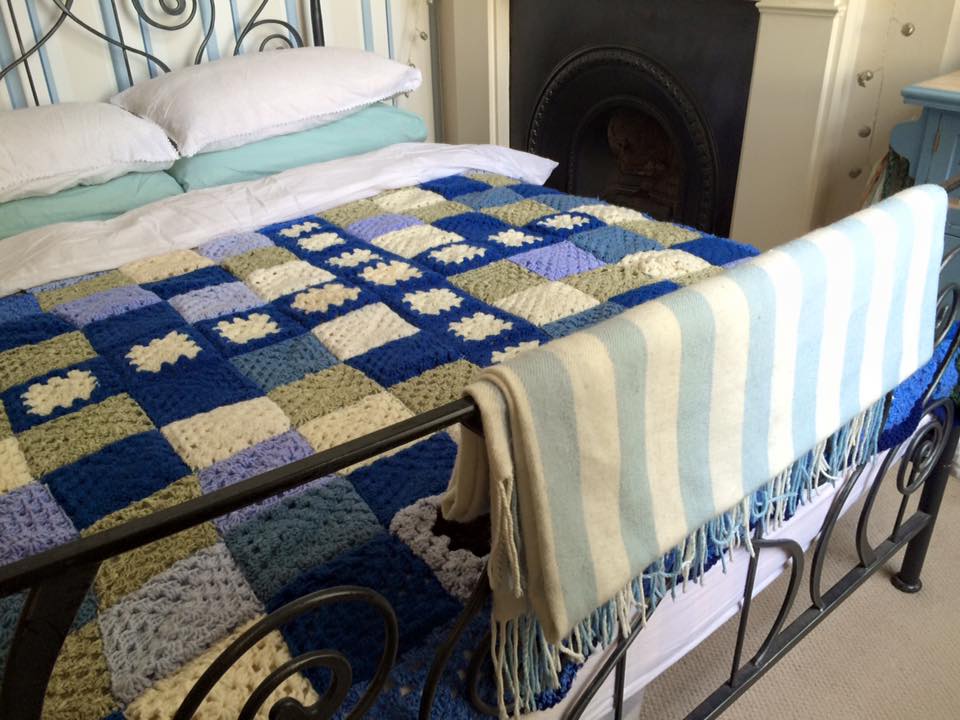 ---
After all of the cleaning and washing I have done today I couldn't help but unwind with some crafty therapy! Another accessory for my bedroom perhaps?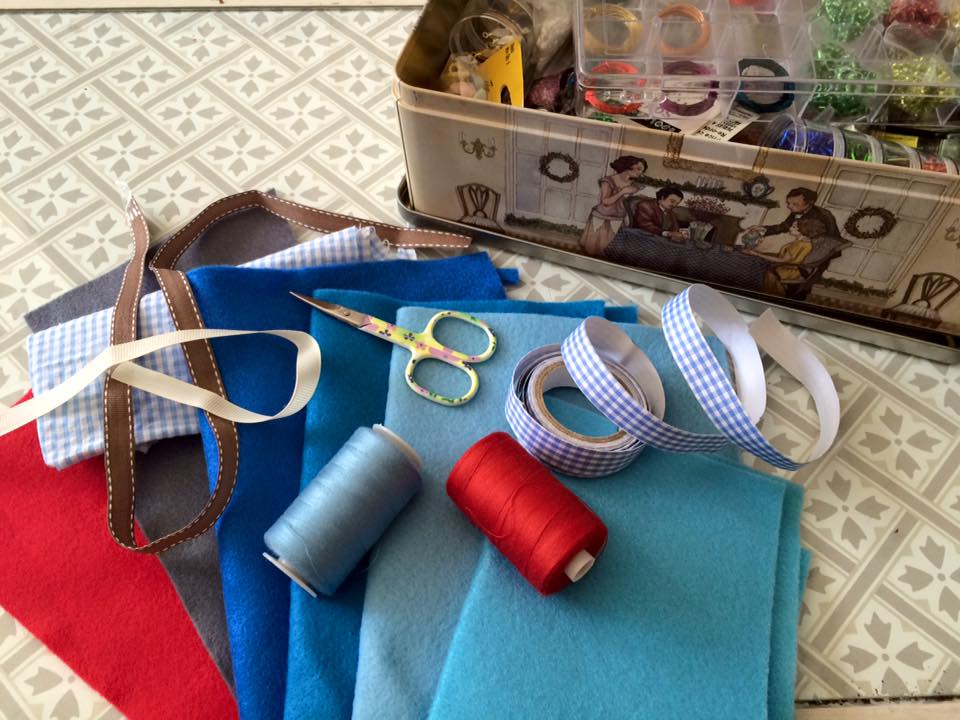 I love felt! I have been making felt decorations for as long as I can remember but I must admit it has been a while since my last felt make! I started off by cutting out the shapes needed for my beach hut.
The great thing about felt is that its quite thick, so using a pen on it to outline your shape isn't a problem as long as you draw it on to the reversed side!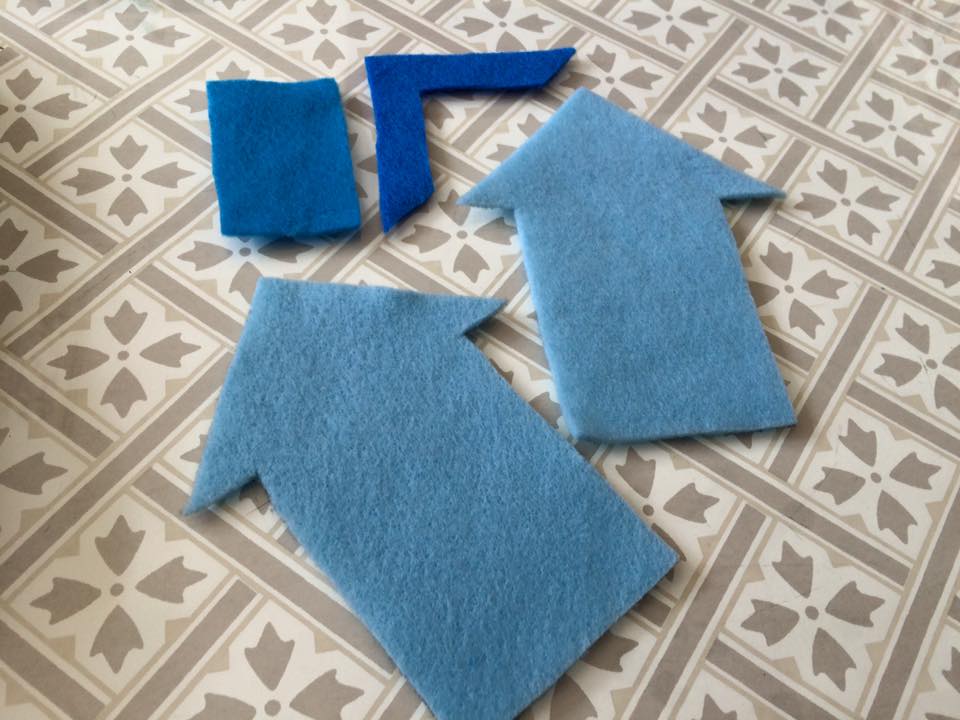 As my decoration is going to be hanging on a wall, I decided to leave the back of it plain as it won't be seen! So the next thing was to start sewing together my layers of felt on the front.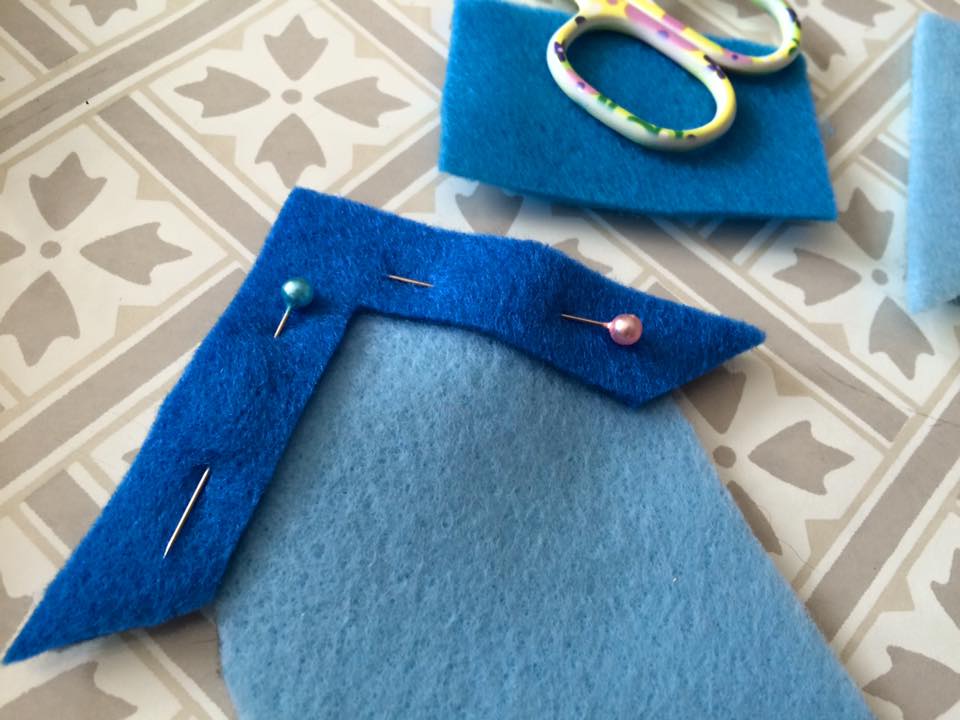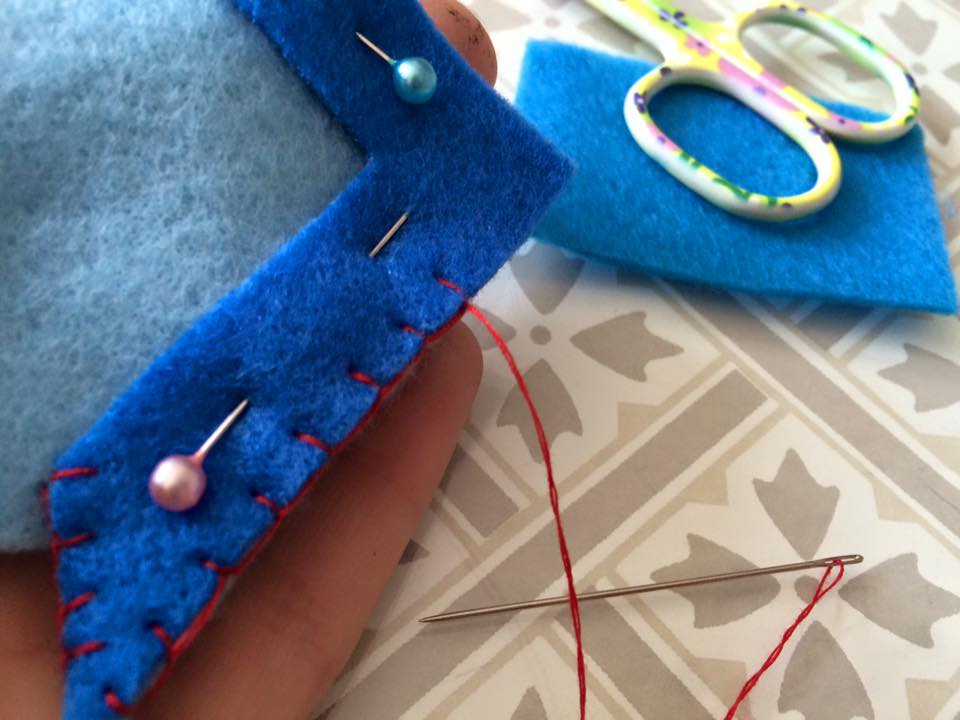 I used blue gingham fabric tape to create striped down the front panel of the Beach Hut.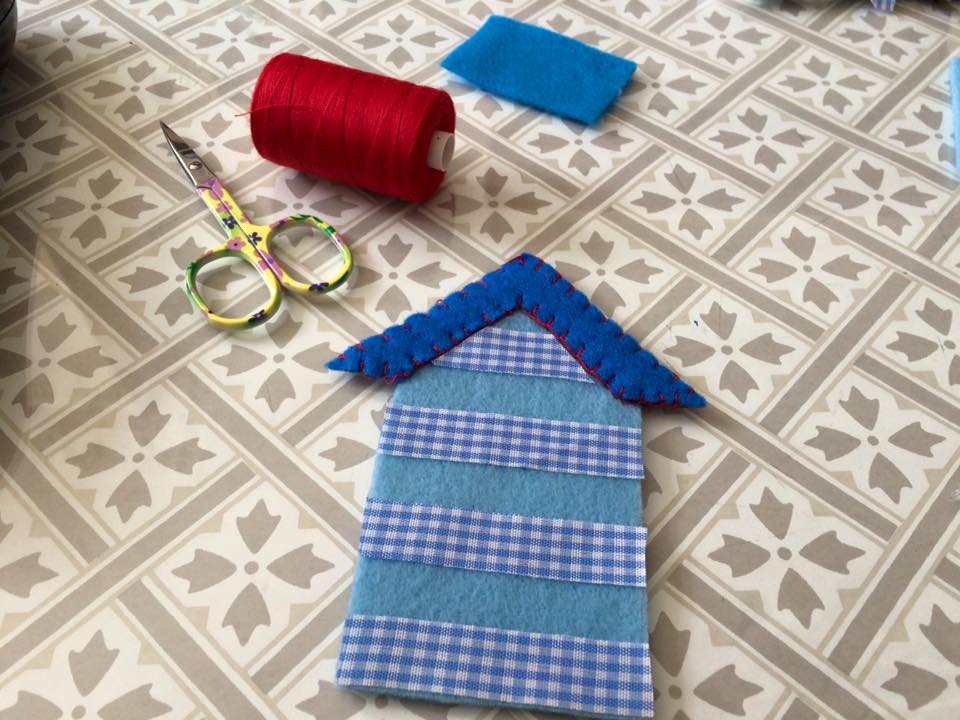 and then created a door by layering brown ribbon onto the blue door and sewing a bead on as a door knob.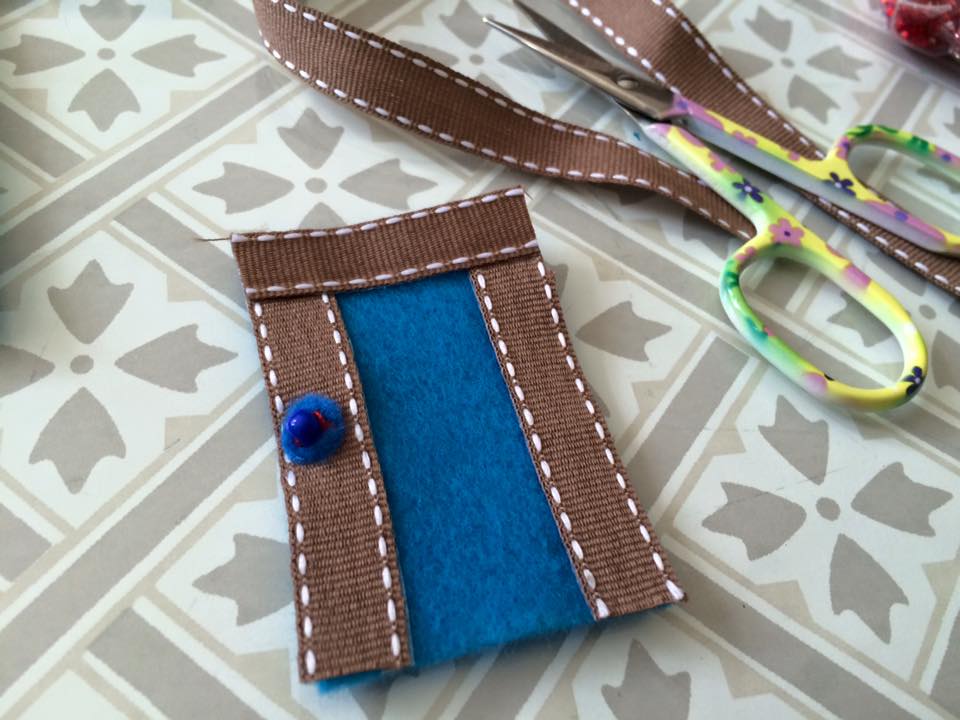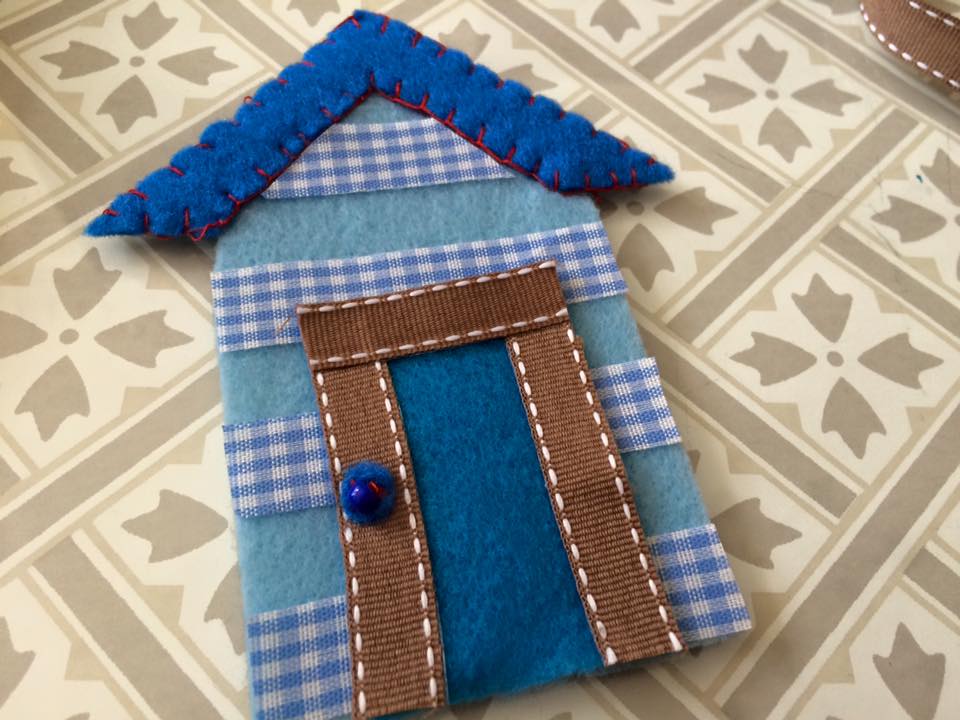 I then sewed the back and front panel together with the blanket stitch all the way around, leaving a 4cm gap to allow space for stuffing. After I filled it with stuffing I then finished sewing all the way around, attaching a cream ribbon in between the layers for it to hang from.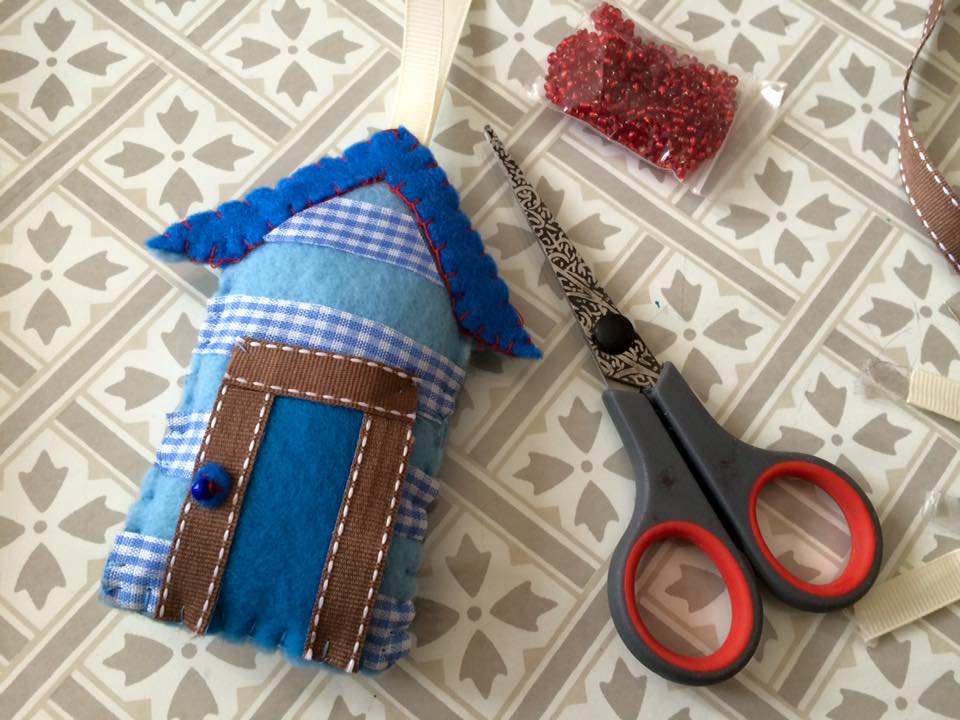 Now for the final touches! I cut out some small triangular shaped pieces of felt and threaded them together with cotton, to hang above the door on the beach hut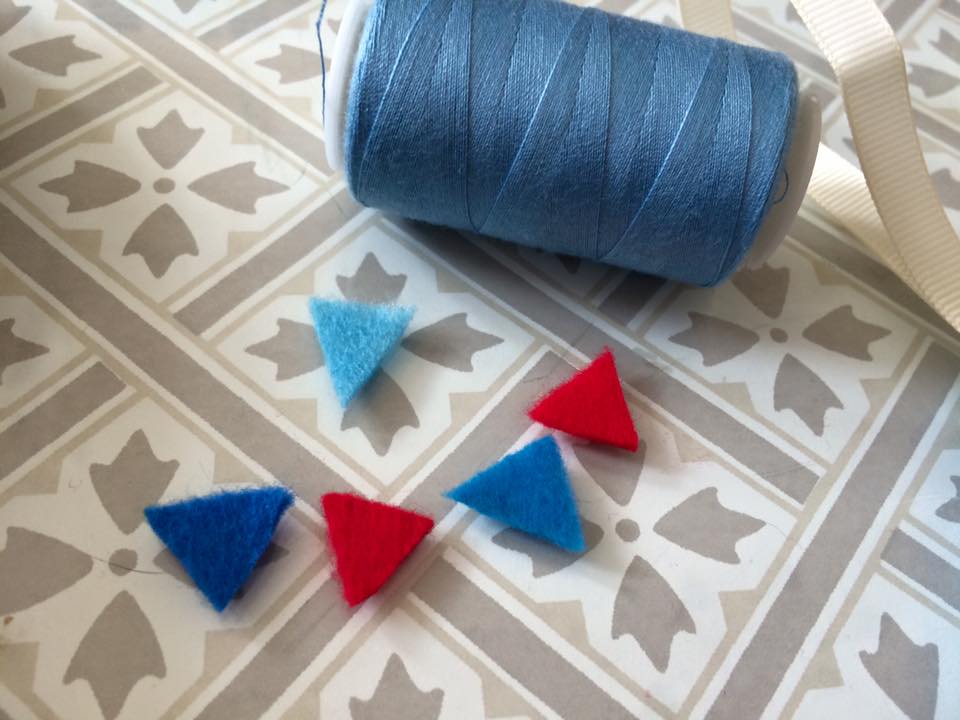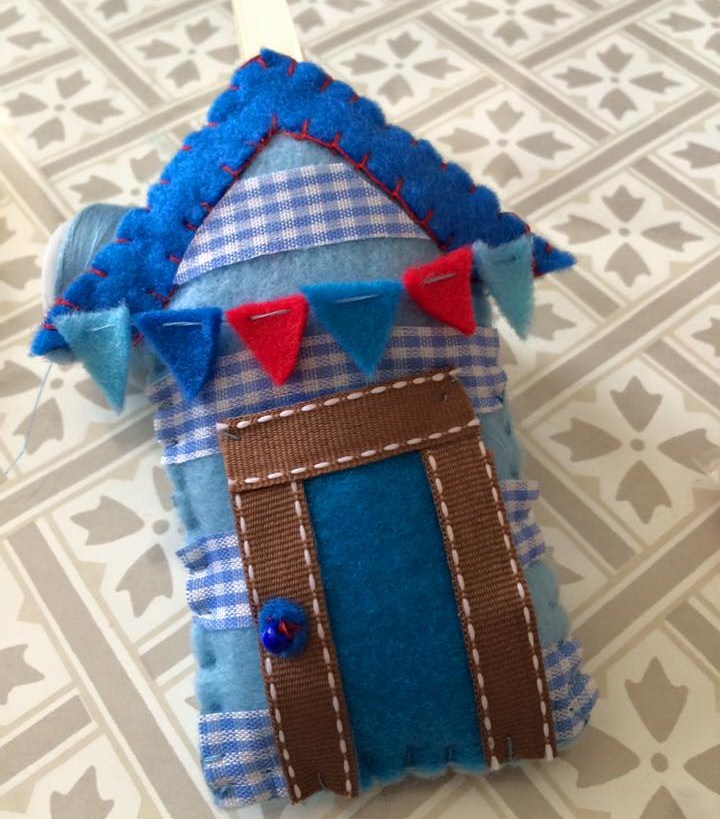 And my quick creation was complete!
A perfect thing to hang on my feature wall!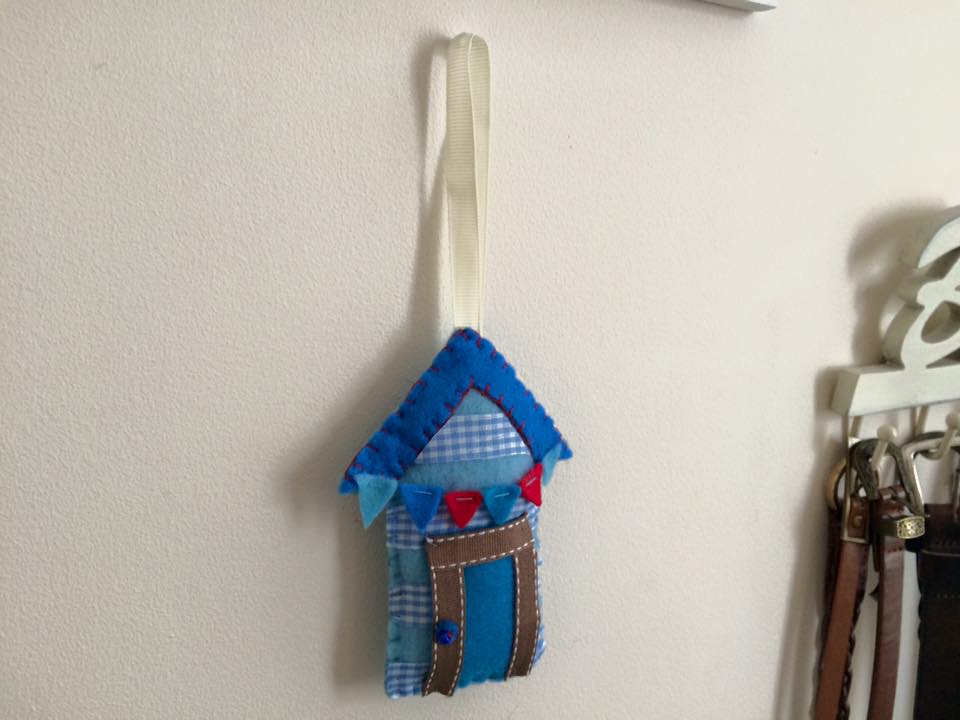 Oh I do like to be beside the seaside…