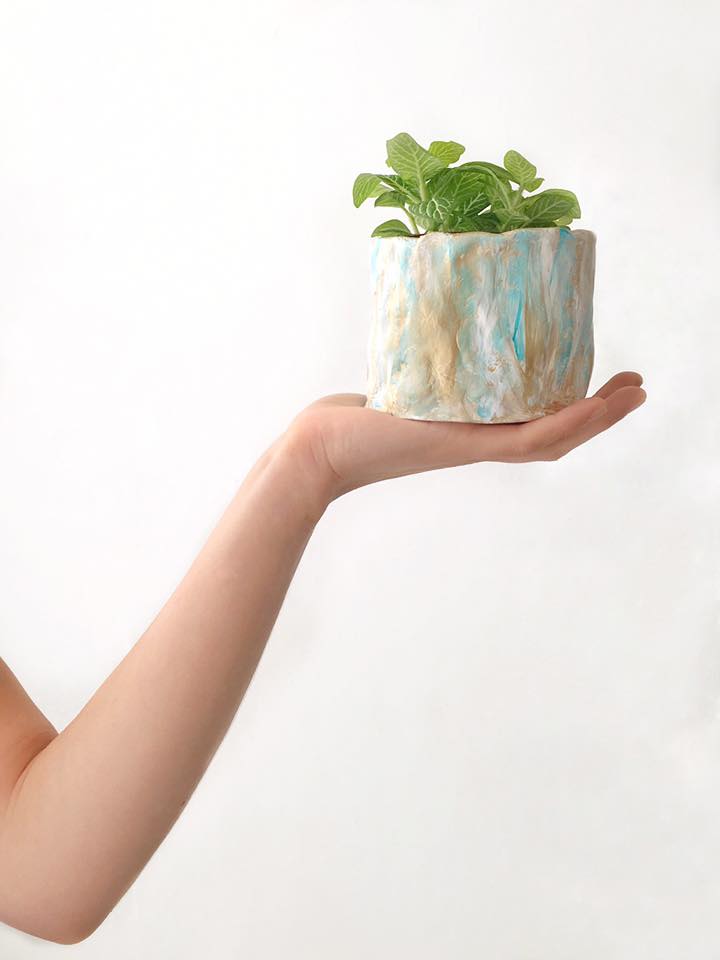 I have a thing for houseplants. Ok, not just a thing but an ongoing obsession which is beginning to make my office look somewhat jungle-like. I just LOVE the botanical look and recently I've been learning a lot about different plants and their origin. Plants make a room feel more homely and adding a touch of nature really does make a room come to life… especially when you have about 15 mini succulents and 4 budding houseplants crammed in to one small room. I probably need to stop buying plants #justsaying.
I've recently moved my little green friends to a higher shelf away from my window sill for the colder, winter months and have spent some time making them feel more at home (because they obviously have feelings). Last month I made these DIY Clay Trinket Dishes and after such success I thought I'd give the DAS another go to make some handmade clay planters for some of my plants to live in.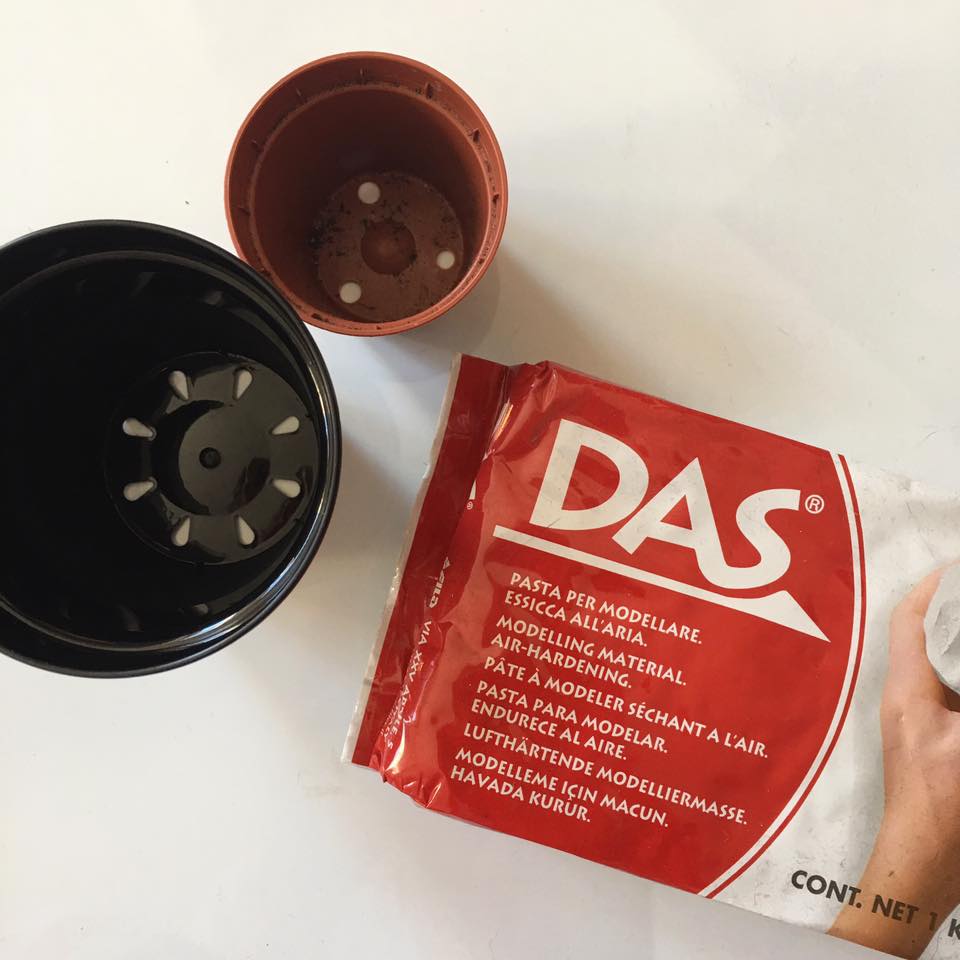 For information on how to use the clay you can read this post for some handy tips. I just love how simple and mess-free this stuff is!
After a few very unsuccessful attempts at trying to form a pot shape I found a nack to the art of pot making… I guess that would be better known as pottery, duh.
I began by forming a solid ball and flattened it down very slightly on a solid surface. Then, slowly and carefully pushed down a hole in the centre of the ball and circled it around to get an even(ish) thickness.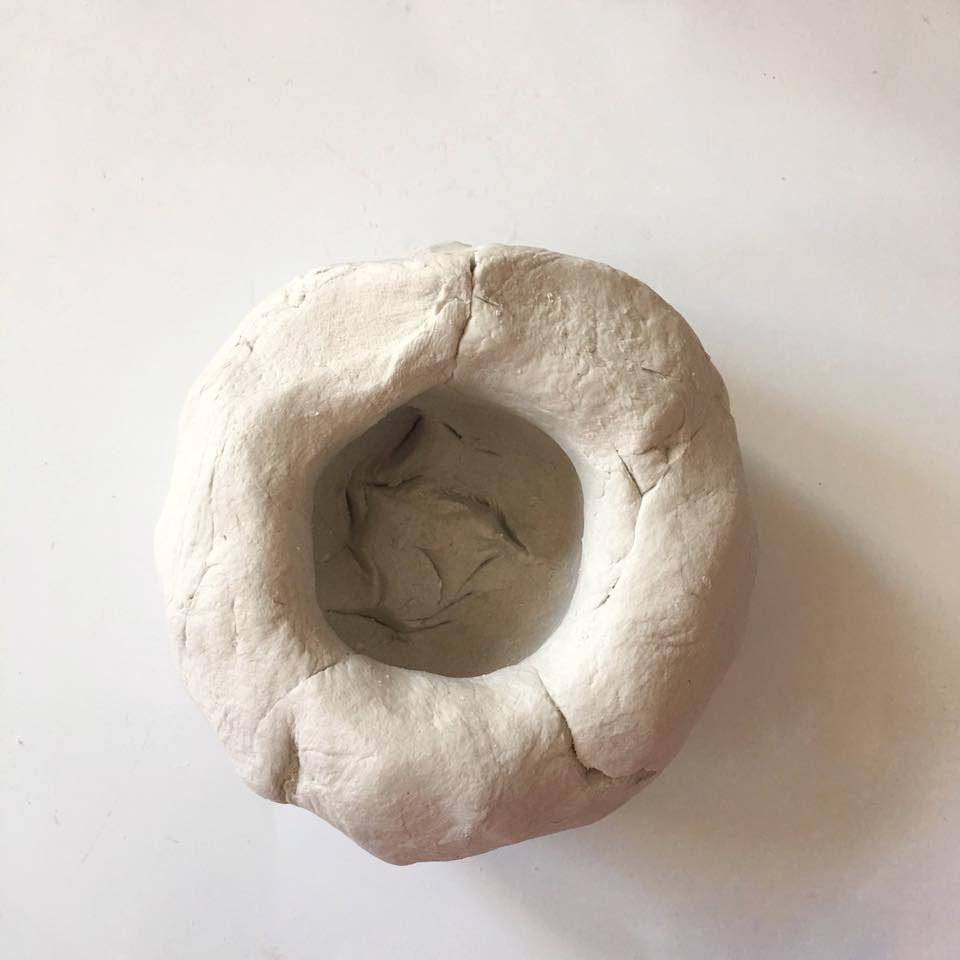 Yes, it's pretty much like using a pottery spinning wheel…but without the spinning wheel. I can completely appreciate and understand the technique of them now, I really want to try one out!
I'm not going to lie, there was a brief second when I envisioned Patrick Swayze sneaking up behind me to give me a hand as I formed the shape of the pot. Oh Ghost, what a film!
I would also like to quickly mention that I was genuinely going for the rough and bumpy, I definitely look handmade look. It worked.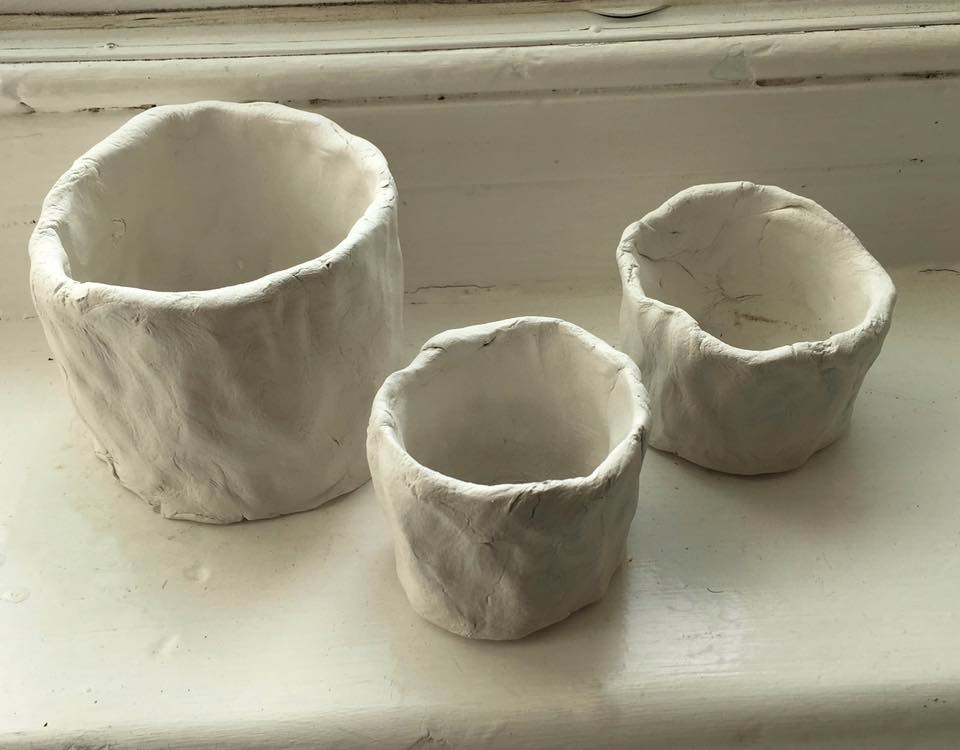 After letting the clay air dry for a few days, my planters were ready to paint. I used a popping turquoise colour against white and of course, a bit of bold gold. On one of the smaller pots I decided to paint clean cut lines whereas on the other two I blended the paints to create a mottled and ombre effect. I think they all compliment each other quite well as a collection and look super cute lined up together.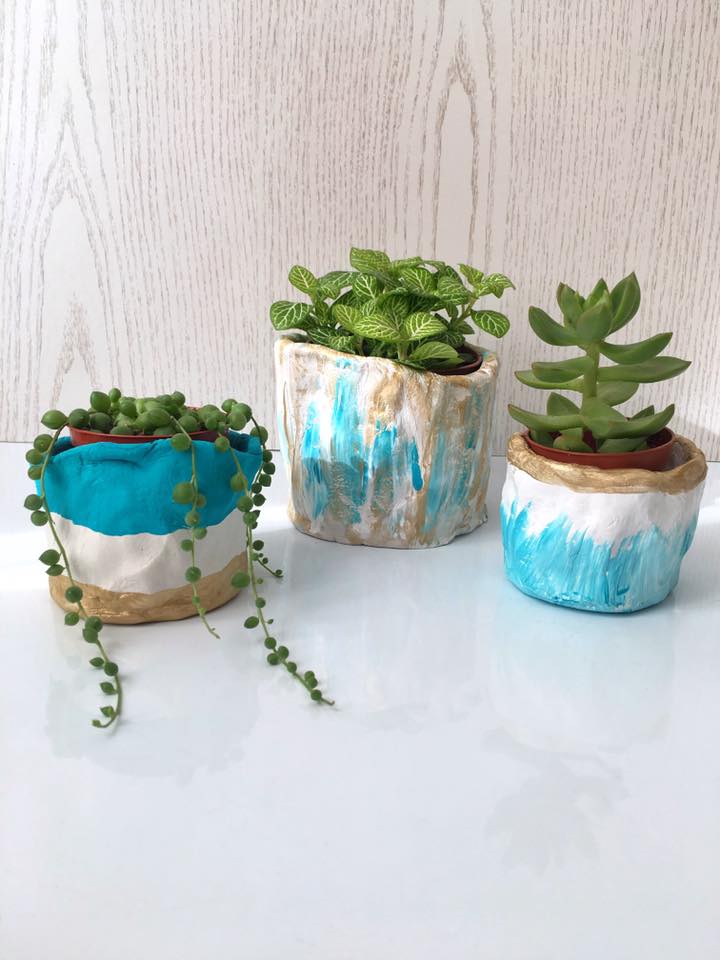 These make the nicest handmade gifts for your nearest and dearest, and the best thing about them is that they're extremely simple to make and very cost effective.
You can buy the materials from the links below:
Although the clay has an extremely slow-paced drying time it can work out very handy to make these if you have a busy schedule. Within one hour I had moulded the pots and could leave them to air dry. Painting the pots took just 30 minutes of my time – depending on how detailed and patterned you want yours to be it could be just as speedy for you too!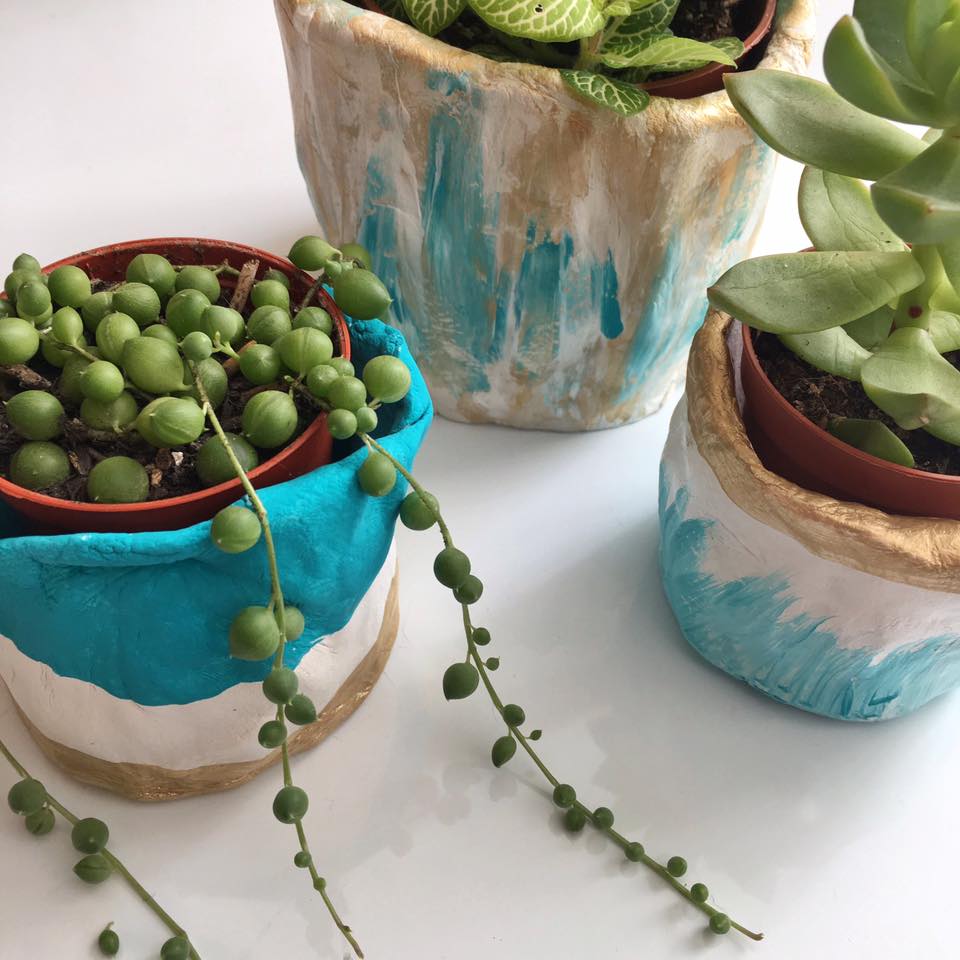 Don't forget to share your results with me! You can contact me directly at thatssogemma92@gmail.com
Any more questions please don't hesitate to get in touch!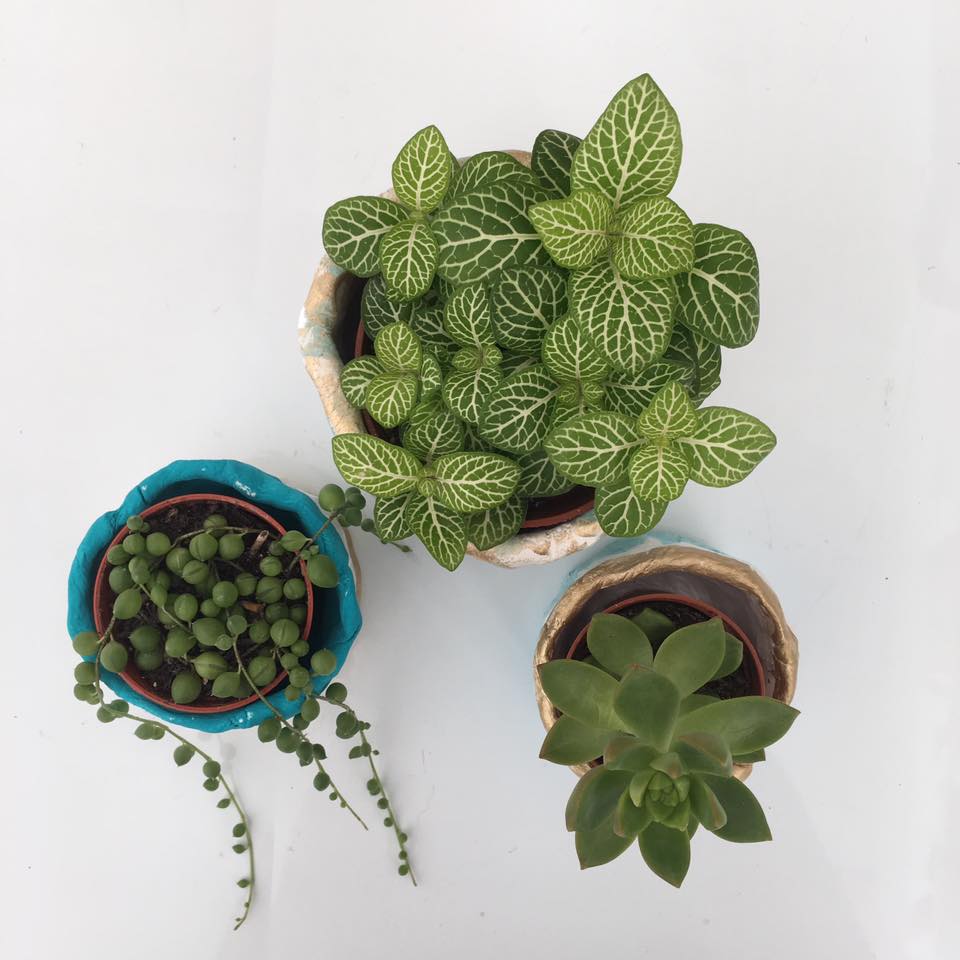 My plants are clearly so much happier now right…