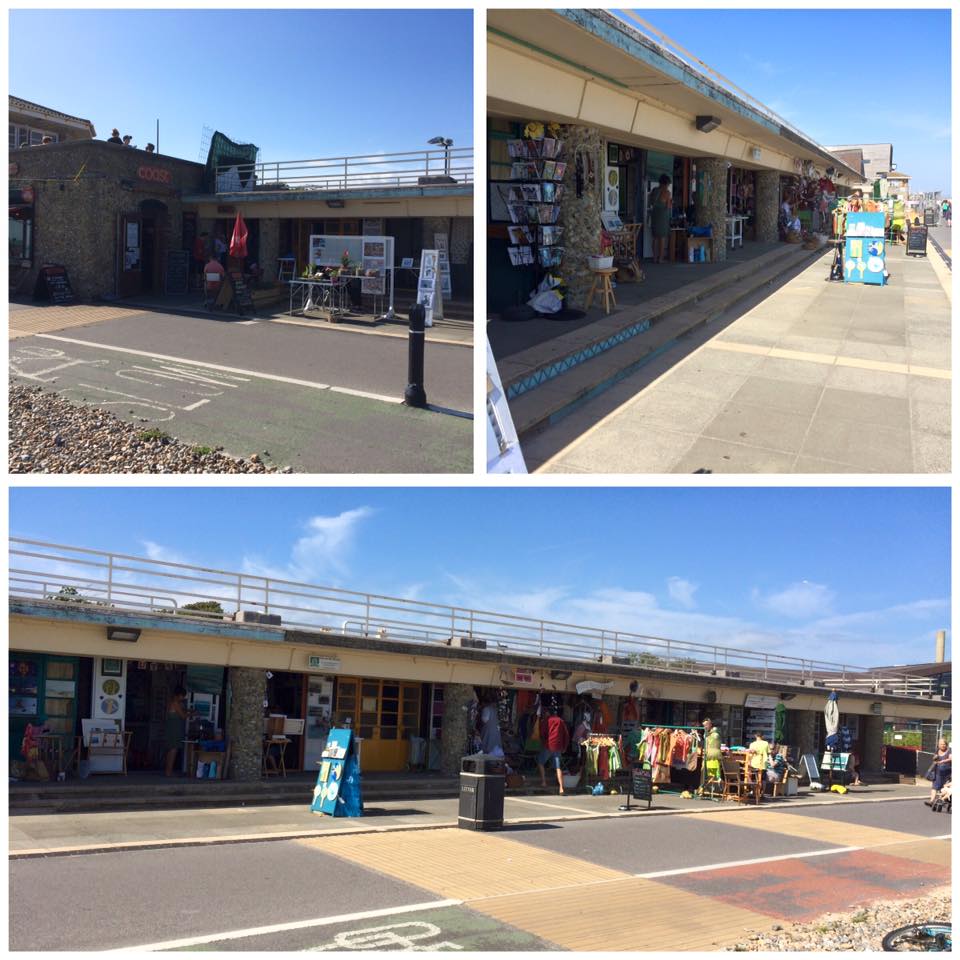 Continuing my journey down East Beach Studios, I was eager to see more! If you haven't already read Part 1 of my travels then you can catch up with it through the link below!
---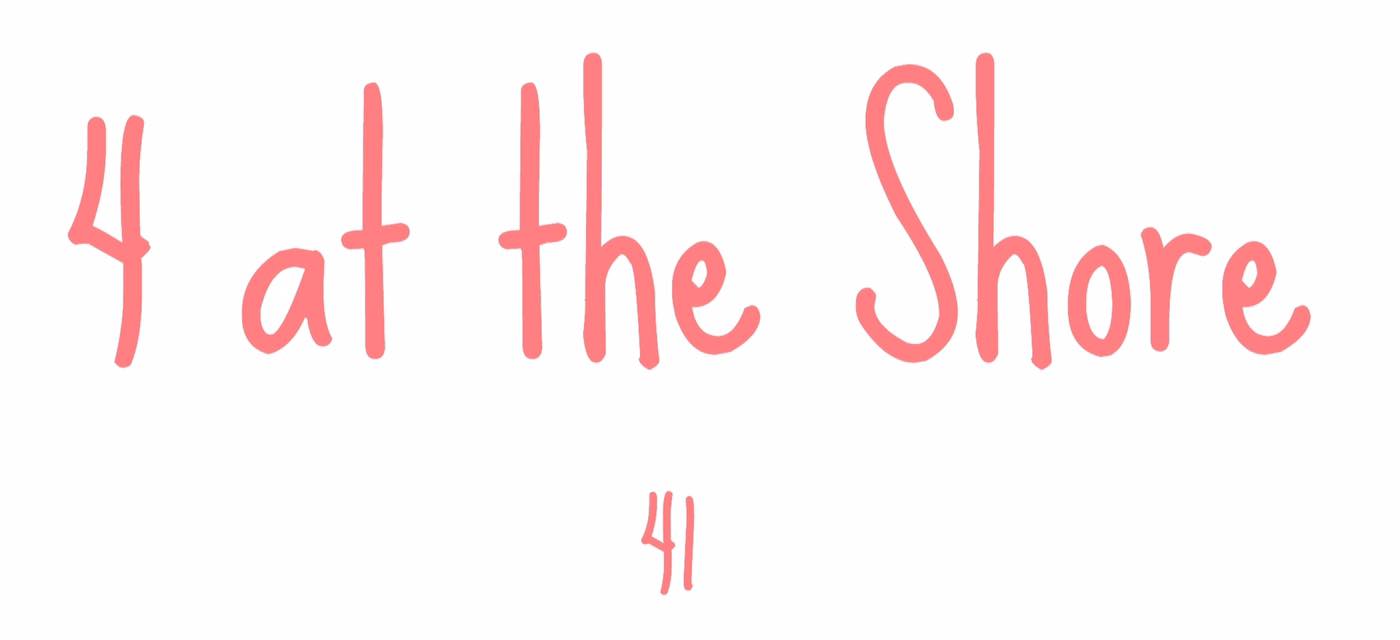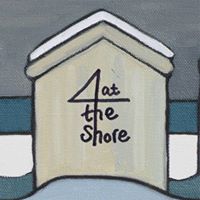 Furthering along the East Beach studios is a beach hut belonging to four talented artists.
Marie Vickers, Lorraine Heaysman, Jane Pinder and Claire Garcka have all been there since August last year, and all create very unique, individual arts and portray this in their wonderful hut that they all share. I met the lovely Jane Pinder when I visited who told me about her passion for jewelry making that  started 5 years ago. Between them, their crafty makes range from Photography, Art work, Jewelry and cards.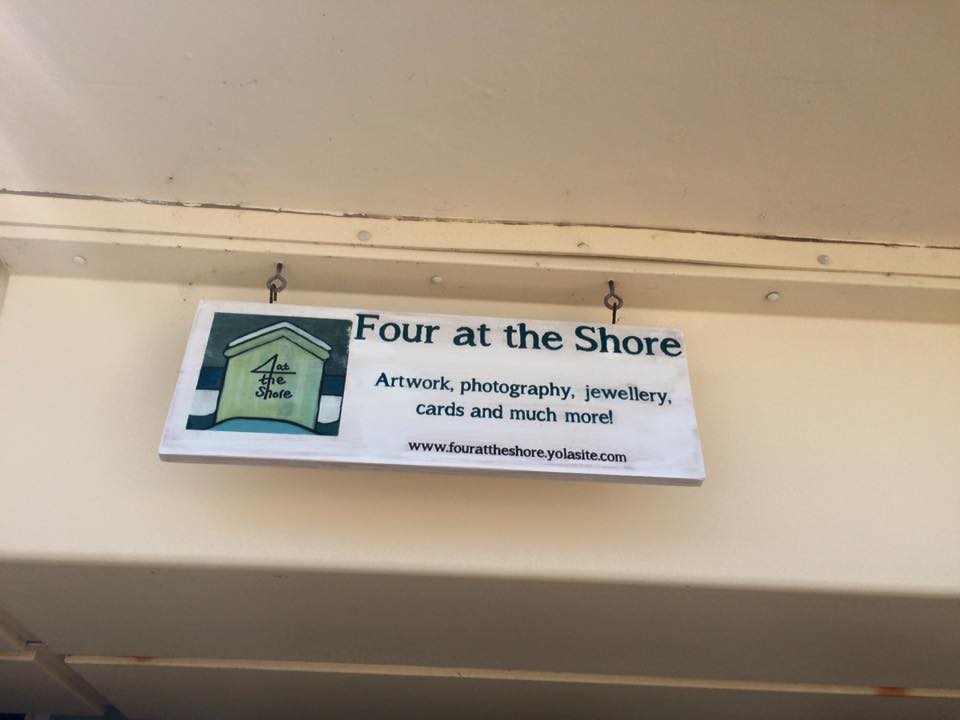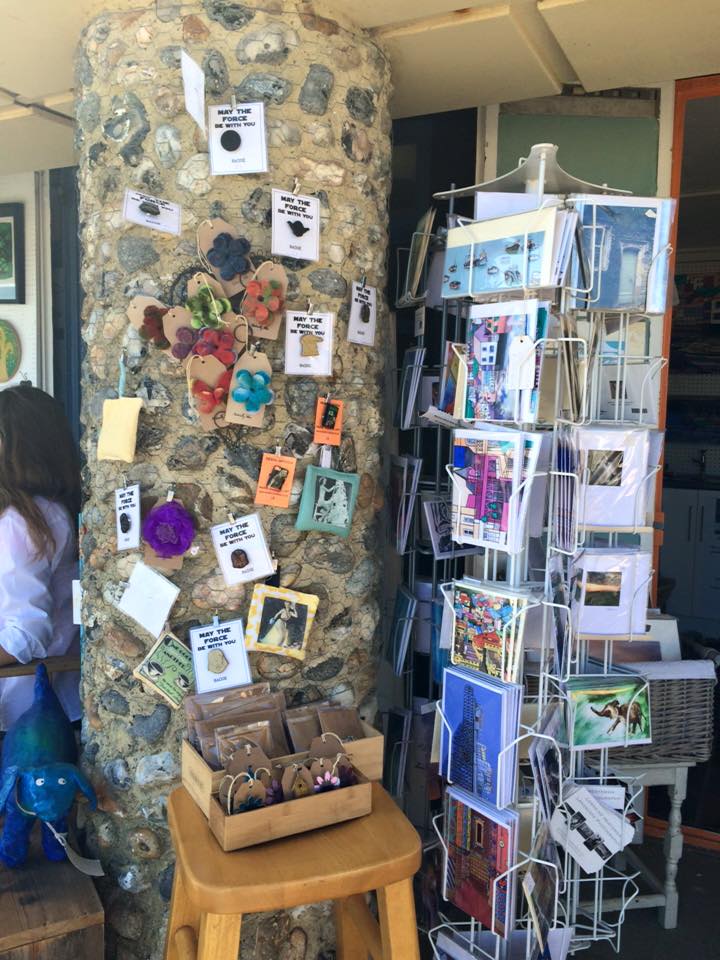 On my second visit I was lucky enough to meet another one of the creative artists at 4 at the shore, Claire Garcka, who was kind enough to tell me more about her paintings and each of the other artists work.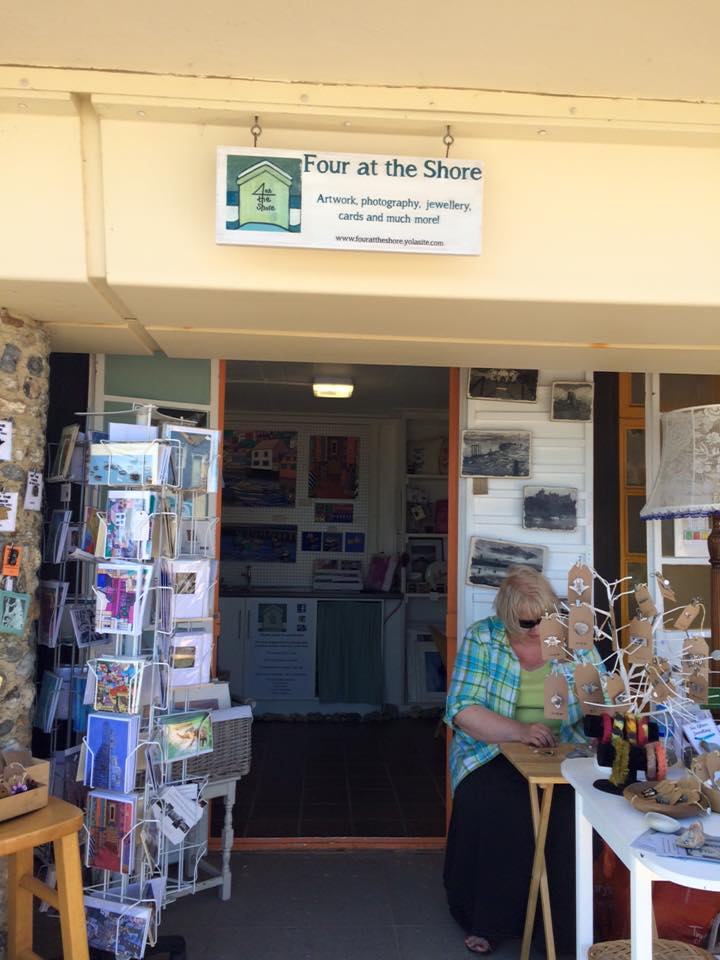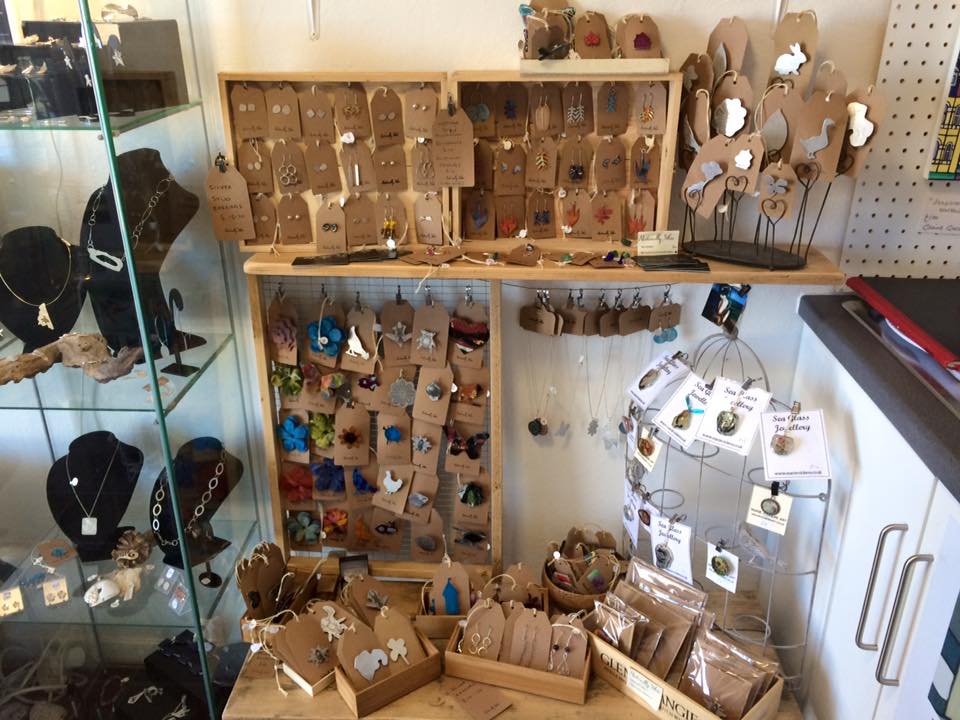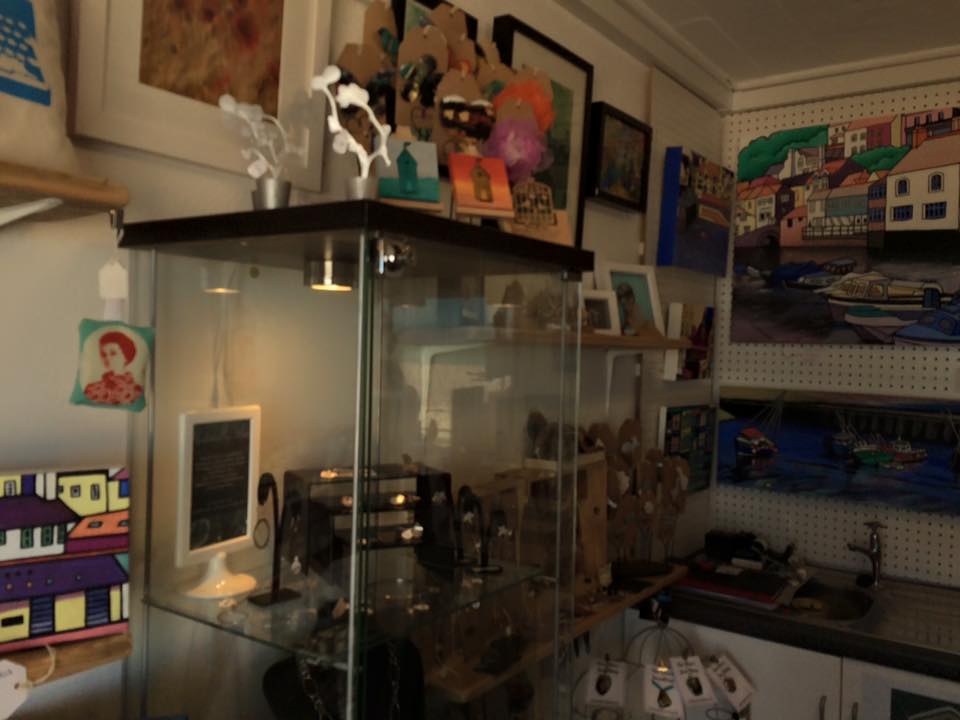 I've had a browse through all of their lovely websites and recommend you take a peek too!
You can find all of their websites below.
Lorraine Heaysman at Lorraine Heaysman Photography
Jane Pinder at Naturally Silver
Claire Garcka at Claire Garcka
Marie Vickers at Marie Vickers Art
You can find their group website here.

---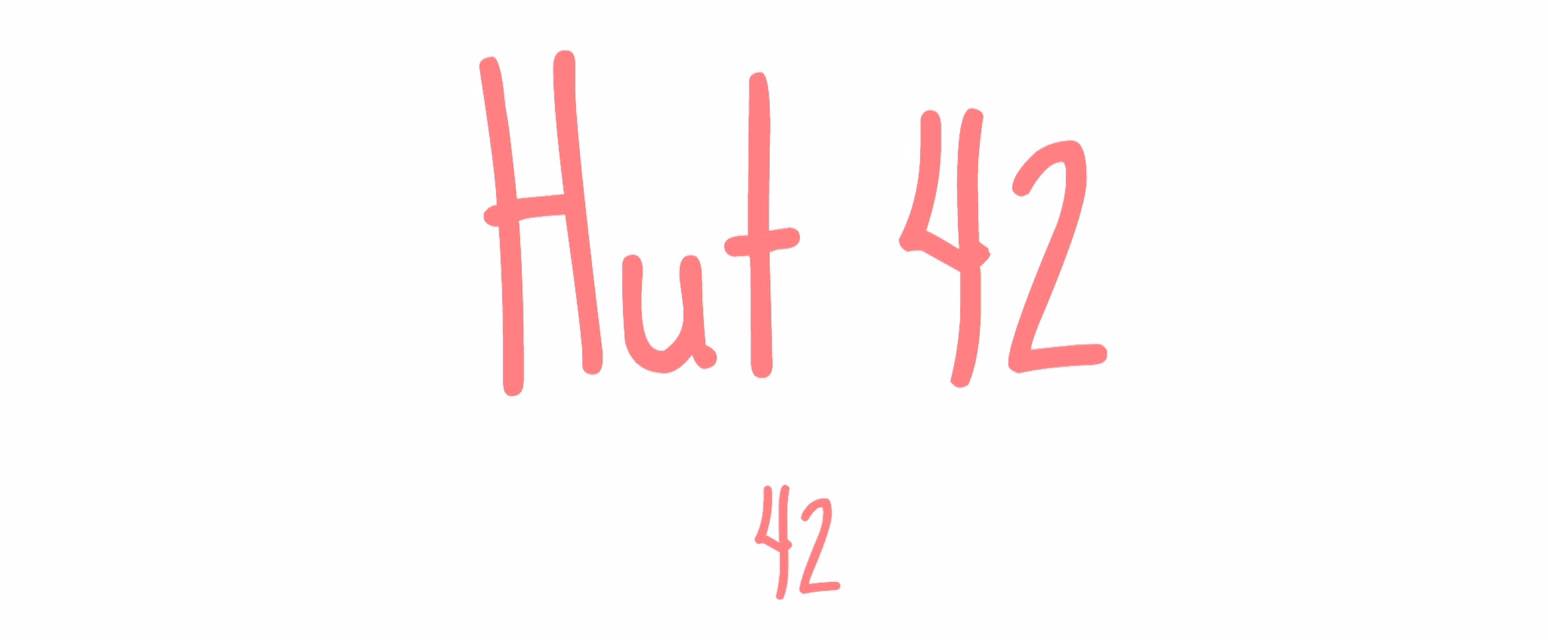 I had the Pleasure of meeting Nadia Chalk at Hut 42 who was eager to give me lots of exciting information about up and coming events such as Post to the Coast, an art trail that follows the coastal trail from Shoreham Port to Worthing Lido.
Hut 42 is shared by 5 creative artists, Nadia Chalk, Vanessa Breen, Rebecca McCardle, Naomi Frances and Fiona Hesford, all displaying their lovely makes and what a lovely hut it is indeed!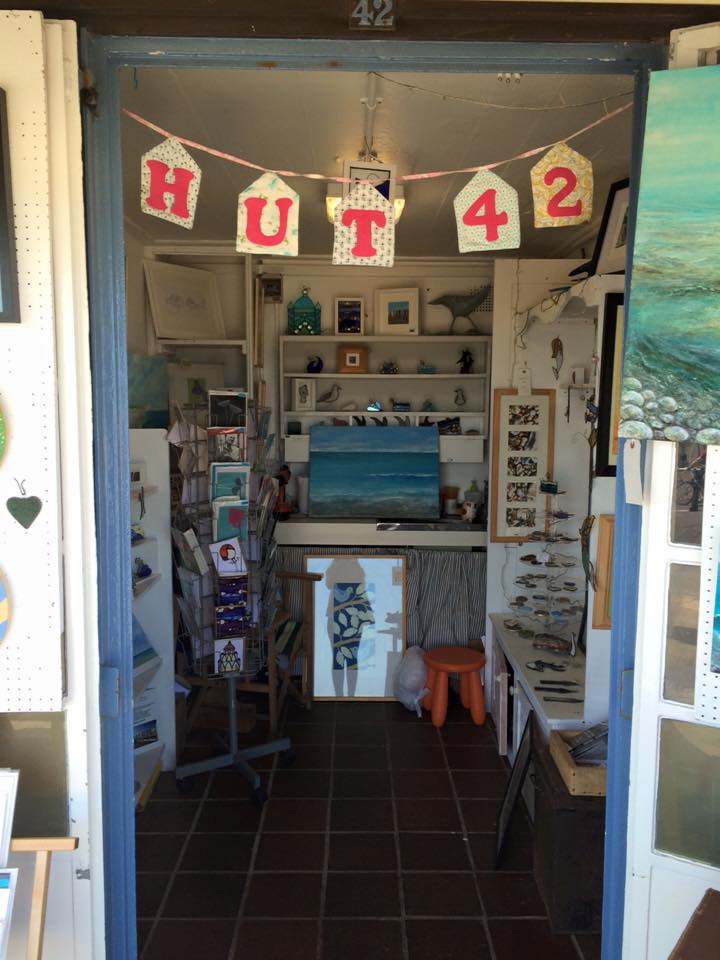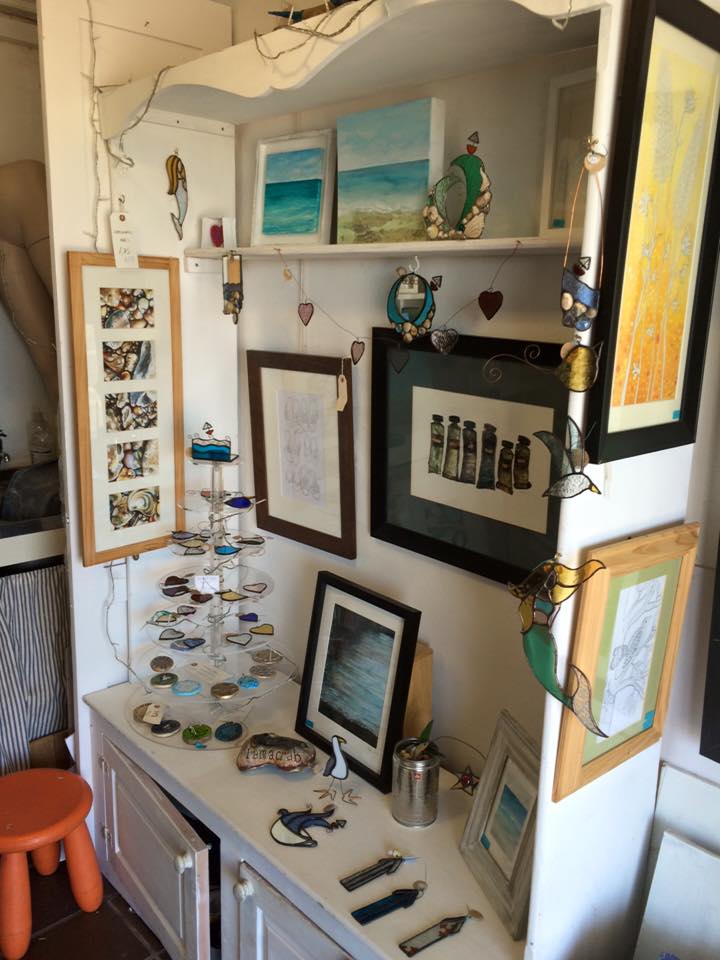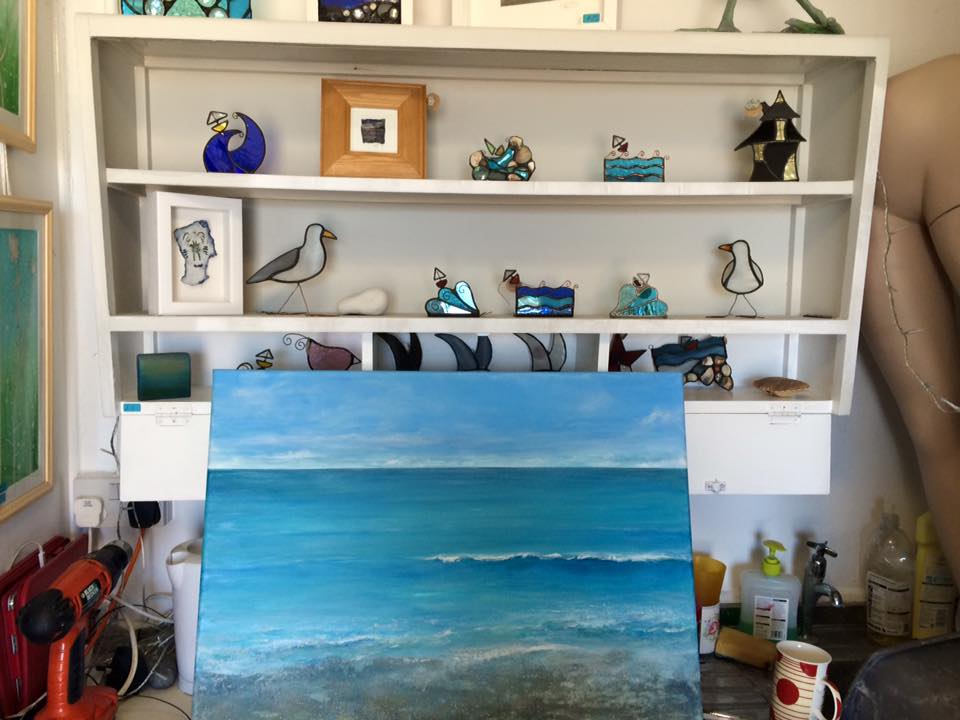 Nadia Chalk and Vanessa Breen are also the Co Founders of Creative Waves, 'an arts company that injects art into communities through creative projects'
Creative waves are responsible for Art on the Pier, an outdoor gallery for the promotion of local artists and also Post to the Coast, which will be beginning from 17th July 2015… not long now, eeek!
Nadia Kindly gave me lots of leaflets and postcards to browse through, I must say i'm really excited about it all! It's great to network with like-minded people in the town I've grown up in!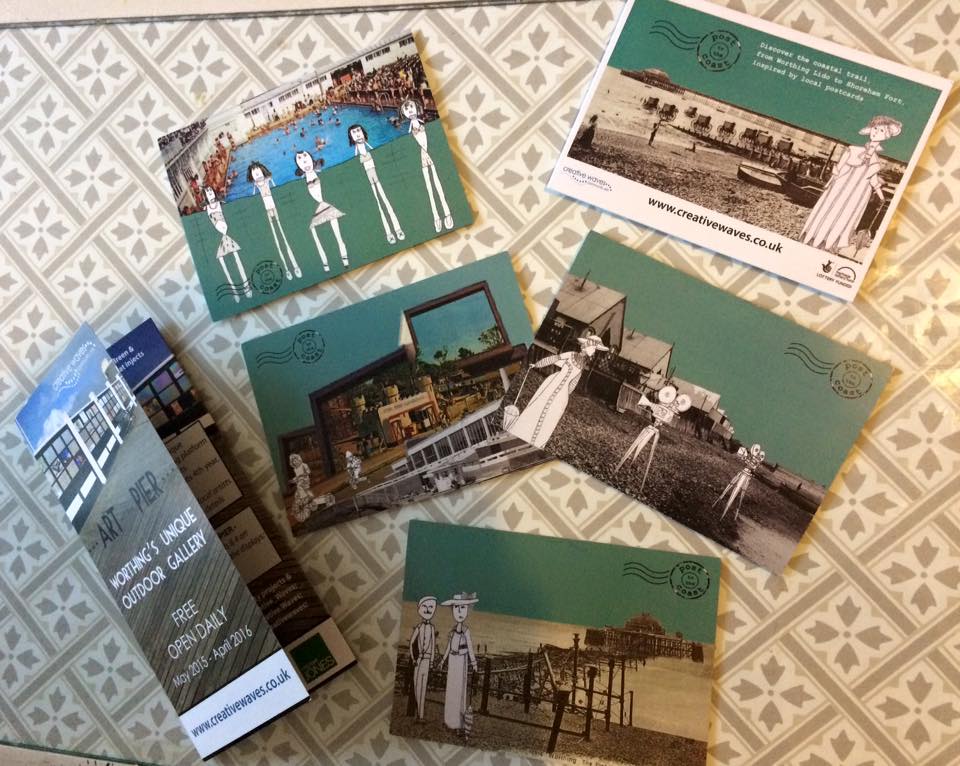 Who can resist this beautiful view from their hut, bliss!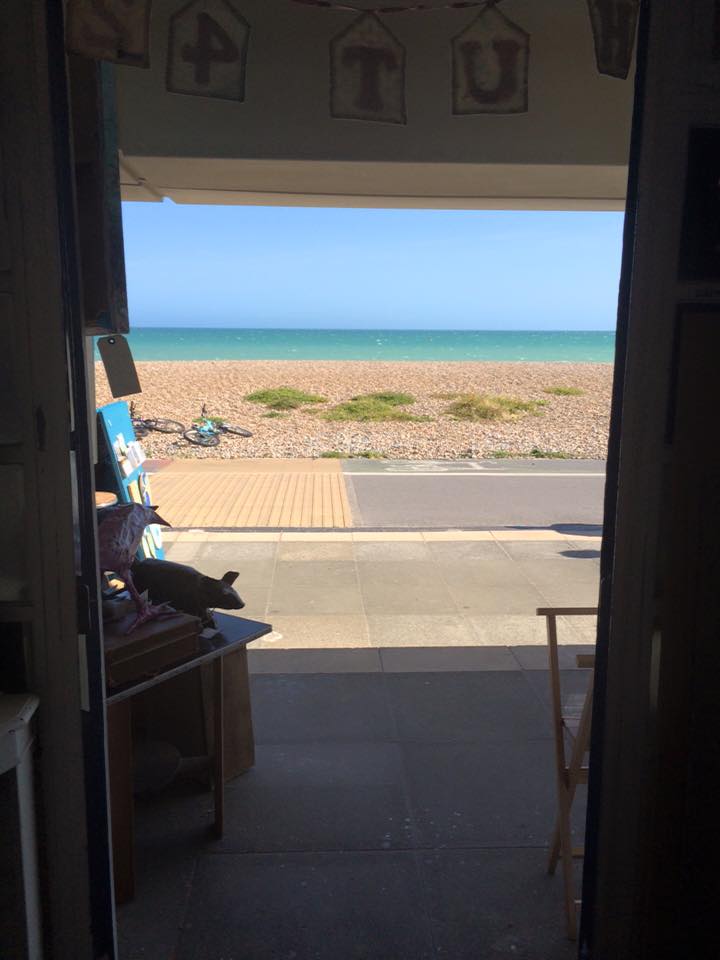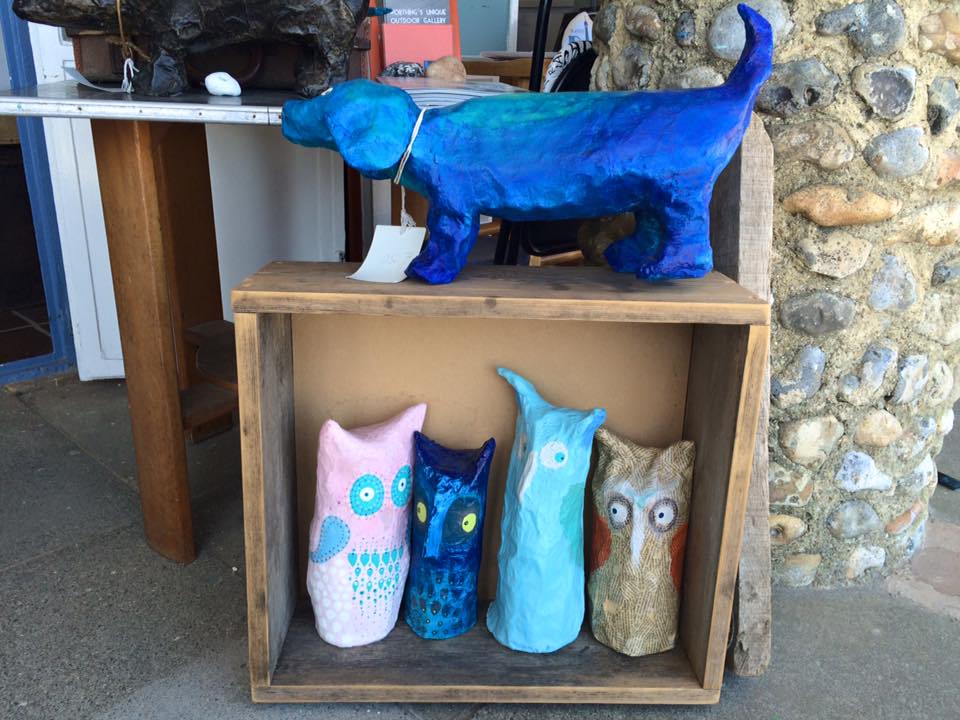 Below you can find all of the links to the artists website pages!
Nadia Chalk – Creative Waves , Nadia Chalk
Vanessa Breen – Creative Waves, Vanessa Breen
Rebecca McCardle – Rebecca McCardle
Naomi Frances – Stained Glass Illustration Naomi Frances
Fiona Hesford – Sewgirl
Lara Sparks – Lara Sparks Embroidery
You can find Facebook Page of Hut 42 here.
Creative Waves website here.
More info about Post to the Coast here!

---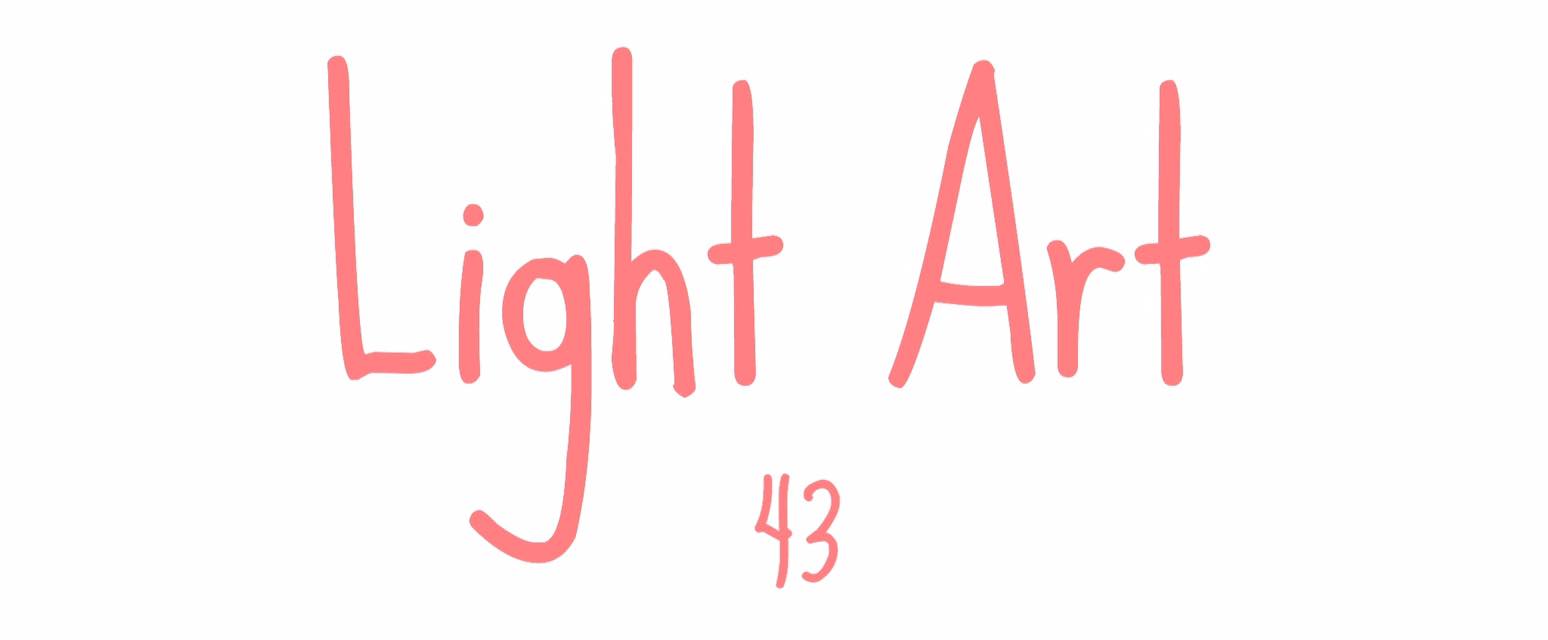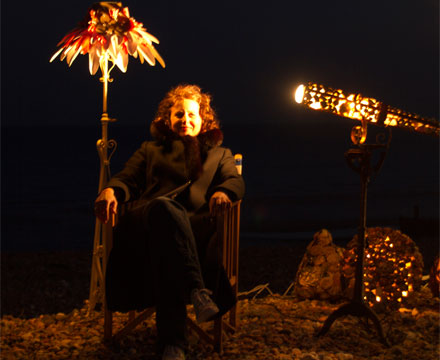 The next hut along belongs to the extremely talented and creative Jessica Gill at Light Art who has been at East Beach Studios for 4 years.
Words cannot describe the beauty that lies in the depths of this hut! Jessica finds old treasured chandelier frames from car boot sales and gives them a new lease of life, transforming them in to stunning new pieces of light art using a wide range of materials such as musical instruments, pebbles, shells and driftwood. Not only that, she also creates her pieces from scratch, welding materials together to create light shade structures. Walking in to her hut, I felt like I had entered a treasure trove with gleaming gold, copper and silver tones surrounding me from high above and down below, a must see!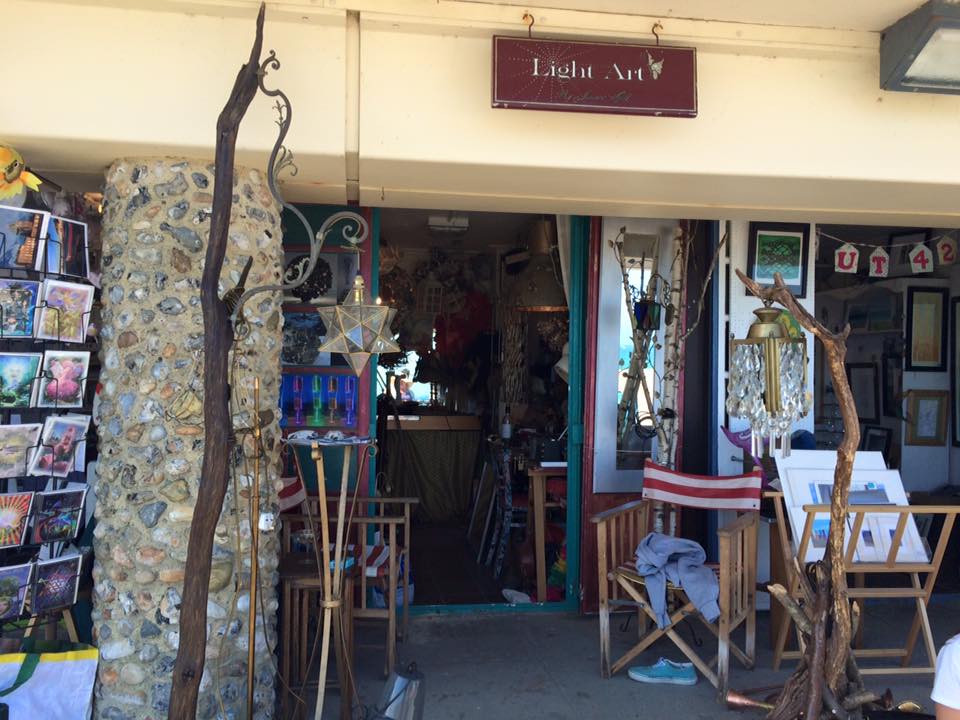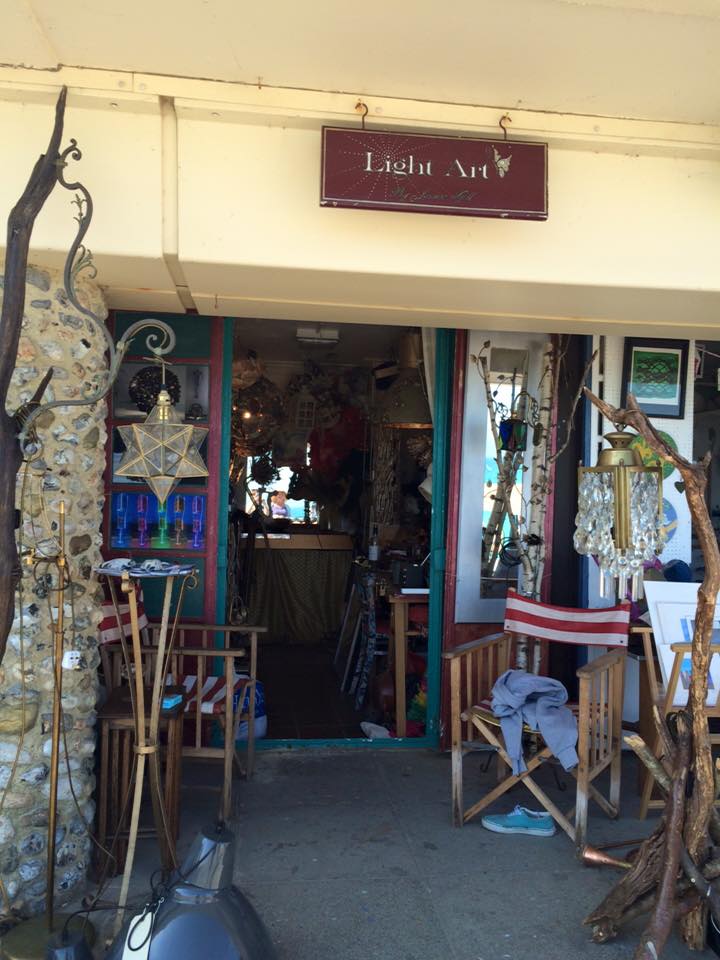 Jess was kind enough to email me a stunning photo taken of her hut at night time, a massive credit to the photographer Lorraine Heaysman at 4 at the Shore (hut 41) for taking this fantastic snap!
Her website is definitely worth a visit as all of the images you can find there are 100 times better than any photos that I could take! I've attached a few of my favourites in a gallery below, click the images for a better view!
You can find Jessica's Website right here!

---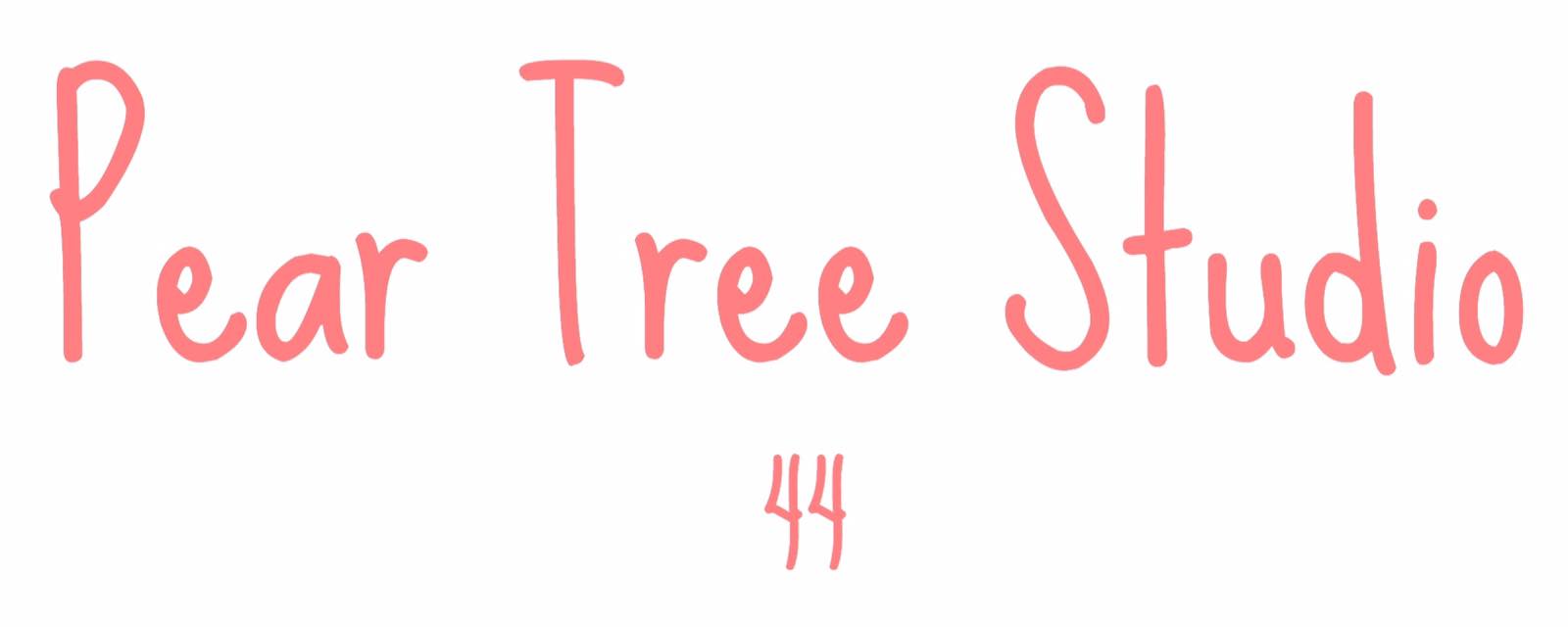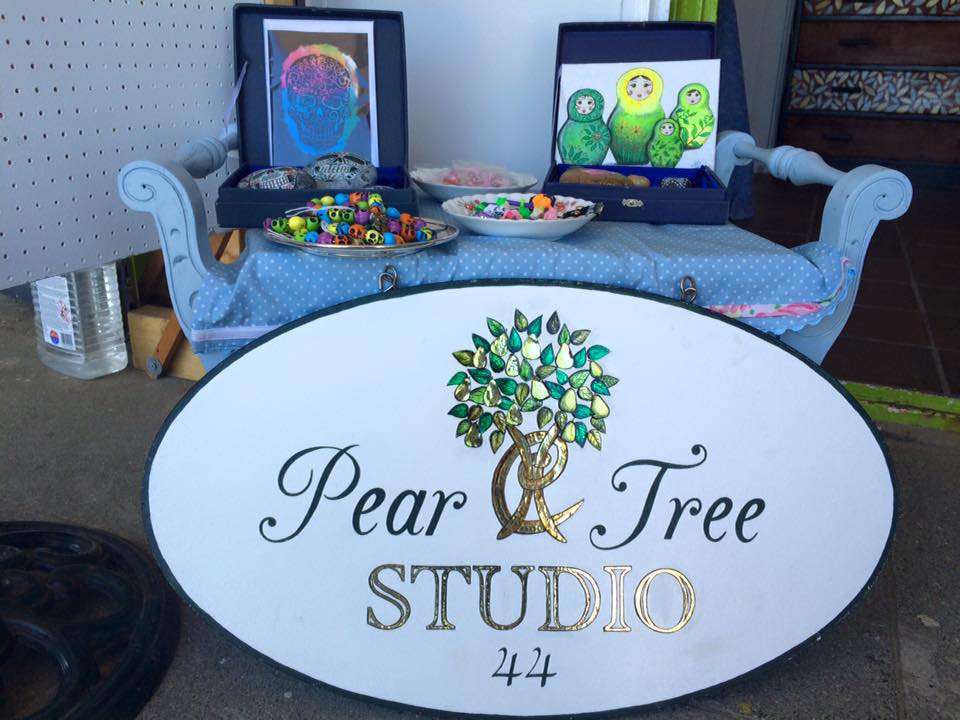 On to the next hut we have the very inspirational Claire Perry at Pear Tree Studio, who has been at East Beach Studios for a massive 5 years. I have to say, when I walked in to this hut I was in absolute awe of the stunning mural she has made on the back wall, with colourful shiny fish swimming on an aquamarine surface… just, WOW.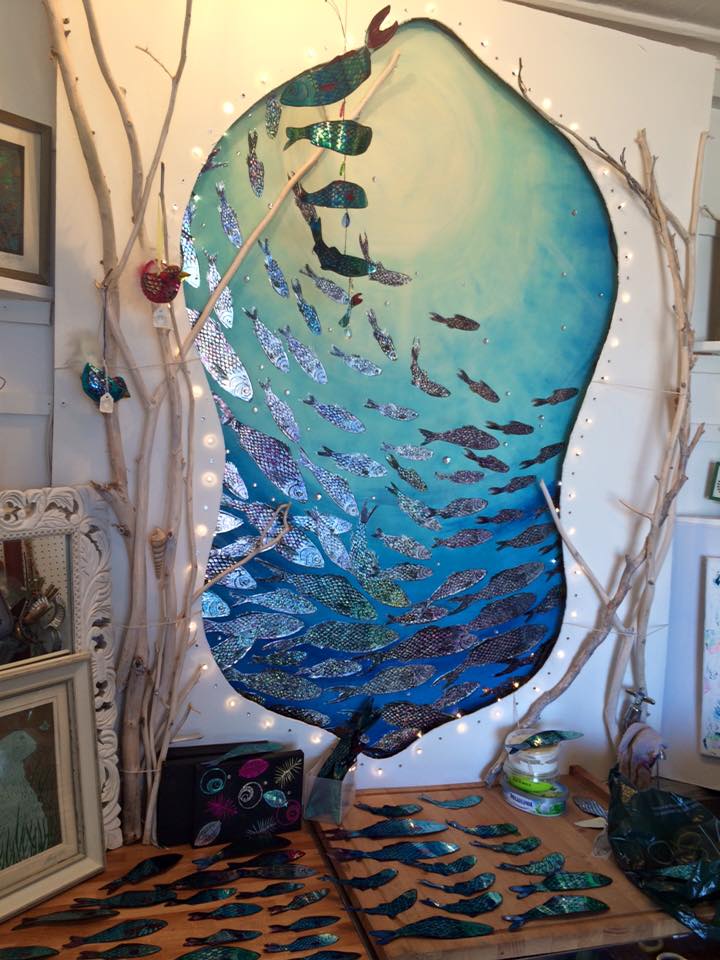 As I walked in to her hut I was mesmerized by all of the beautiful and shiny things she was making, I even caught her in the middle of a crafty session!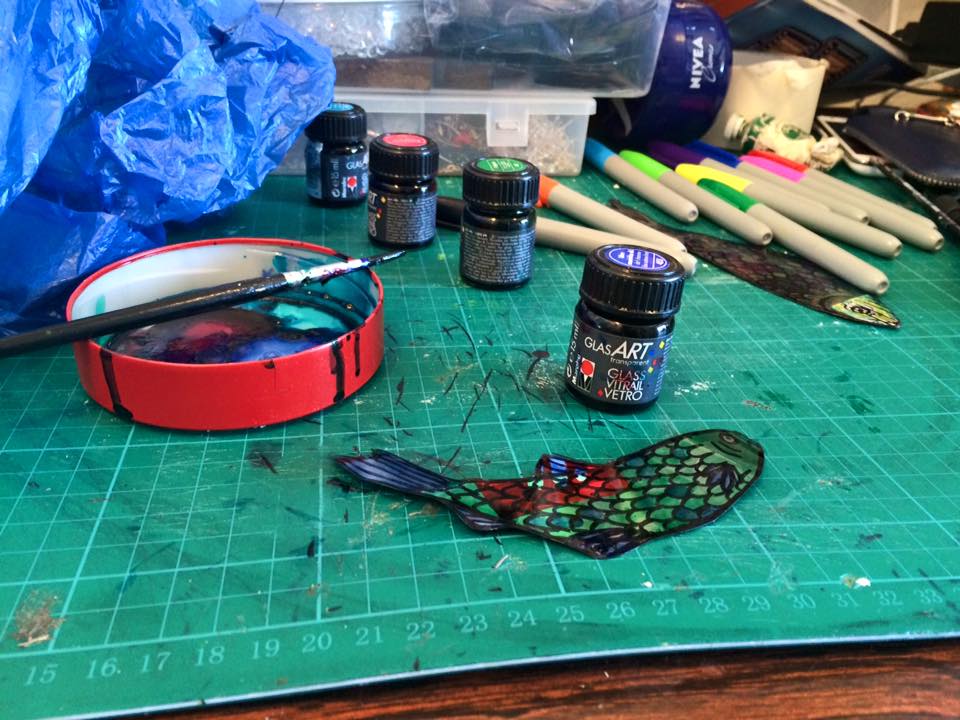 This incredible lady shocked me by the amount of different talents she had from painting to lino printing, jewelry making and recycling old materials for her work. And to add to my amazement, she is also a trained Goldsmith and Silversmith! Again, WOW!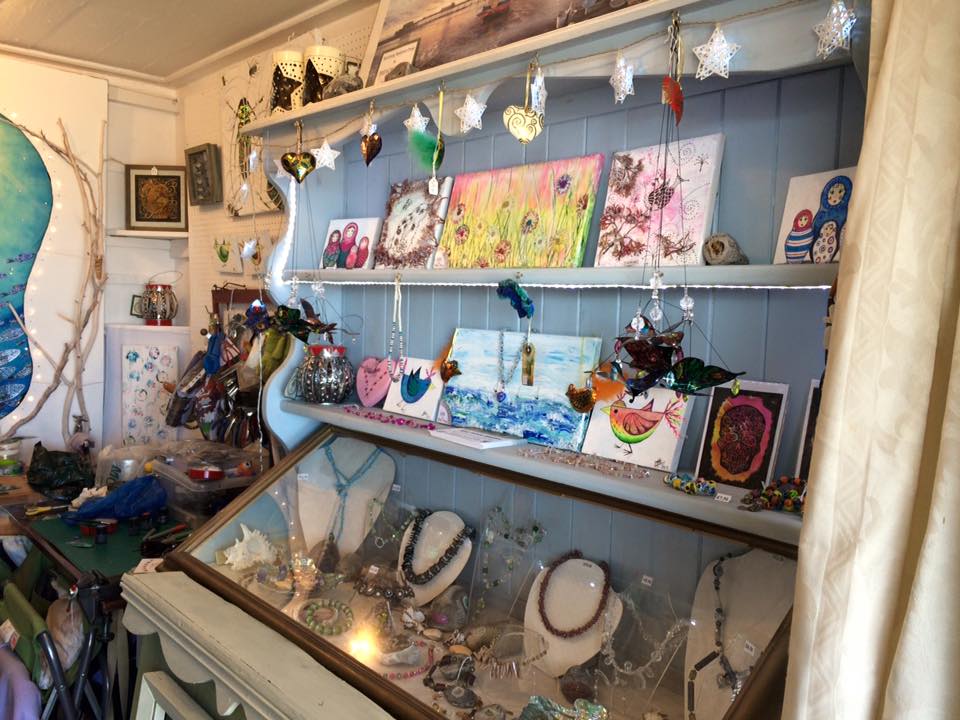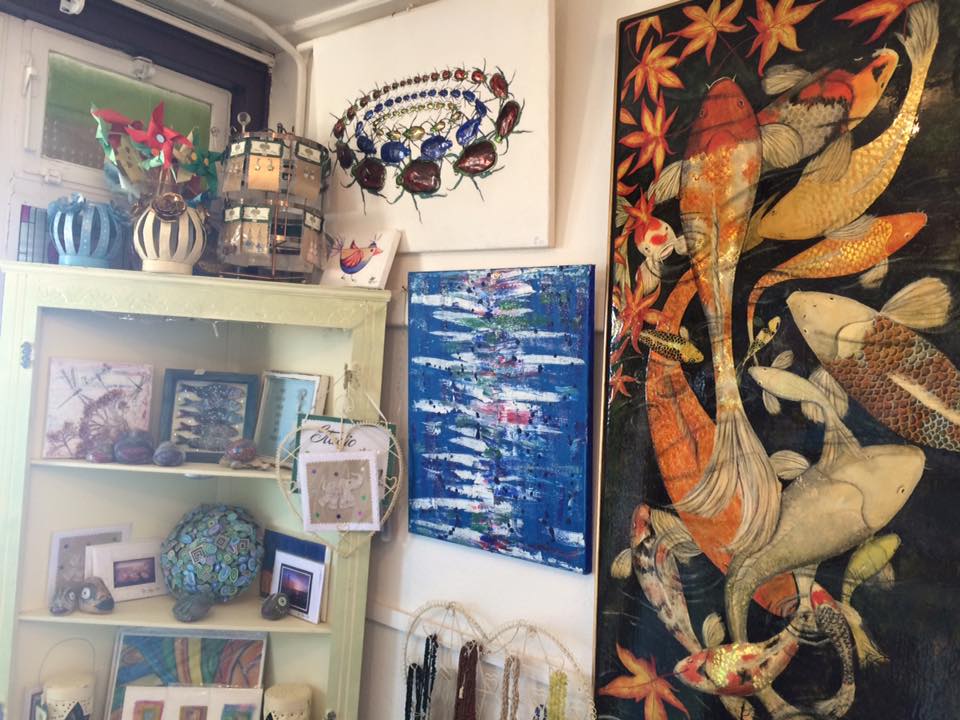 She also filled me in on some exciting new plans she has helped force for the Active Beach Zone, which will hopefully bring Worthing sea front even more glory!
You can Find Claire's Saatchi Art account here, her Facebook page here and her Etsy store here!

---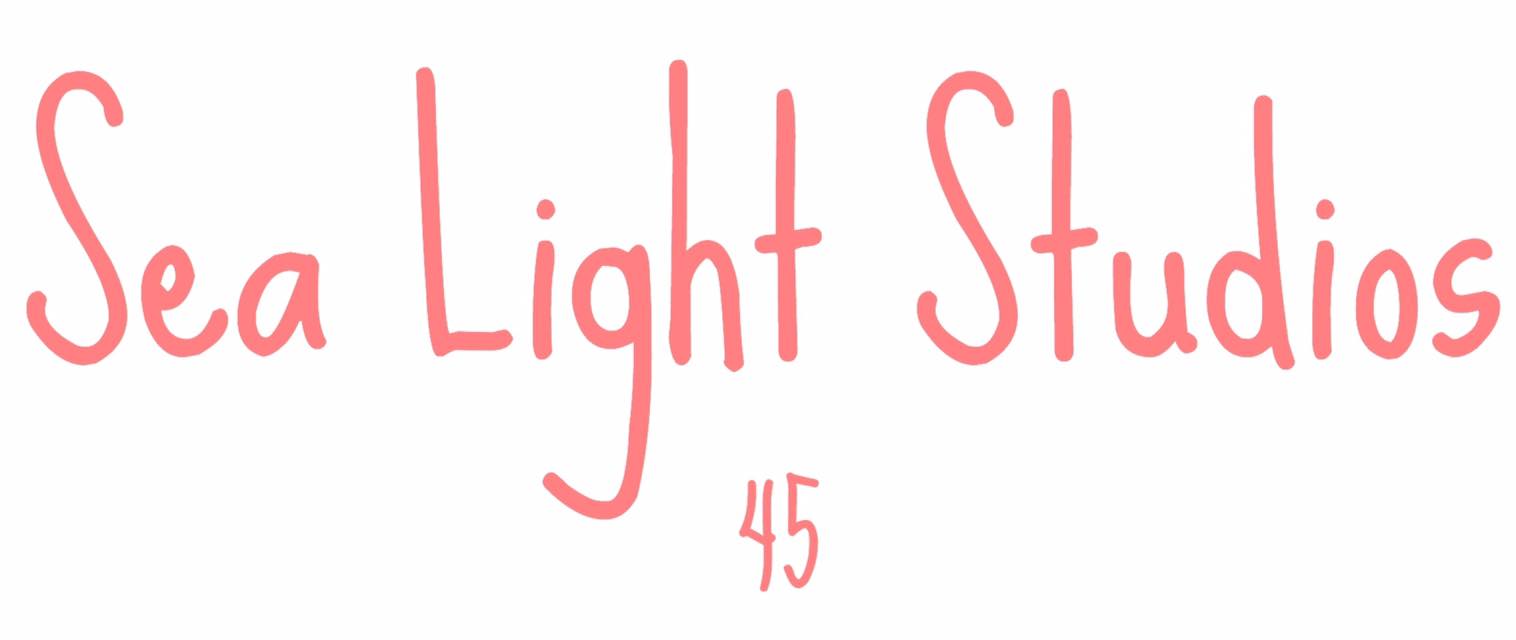 The next hut along belongs to the Newbies of the block Anna Vartiainen and Sue Thompson who had only been there for two days! I must say, for such an early stage the hut looked fantastic with all of their original Lino prints, drawings and Collagraphs displayed inside and outside, and what beautiful prints they were indeed! Sue informed me of the exciting news that they have both decided on a name, which will be Sea Light Studios!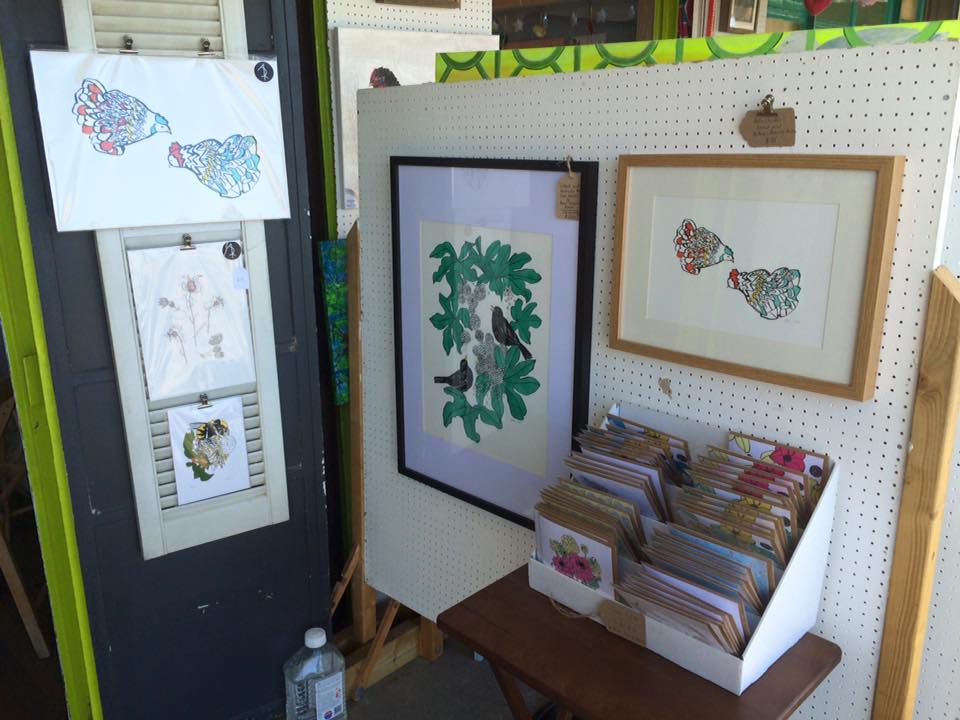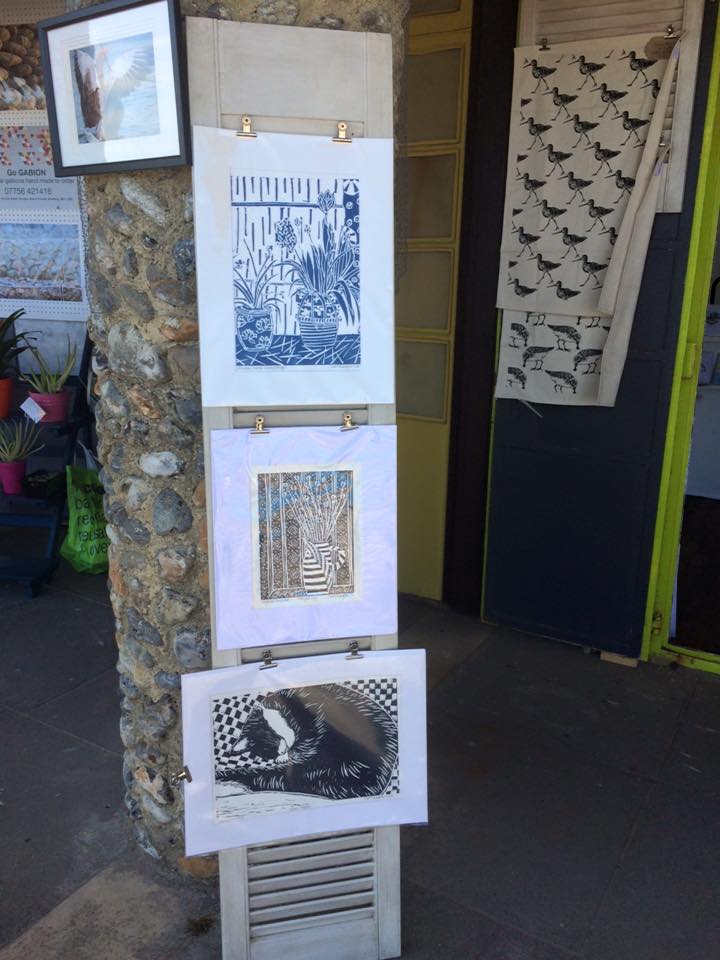 Unfortunately Anna wasn't there when I visited but I had a wonderful chat with Sue (she even offered me a chair!) about how they came to East Beach Studios and what she did beforehand. She showed me some fantastic photos of some collagraph prints that had been made by children at her print workshop in Cheshire that she used to organize before moving to Worthing.
Although I didn't get to meet Anna, Sue gave me her business card so I've had a sneaky peek at what she creates and it really is worth a look! You can find her website at Anna's Drawing Room and her Facebook page can be found here.

---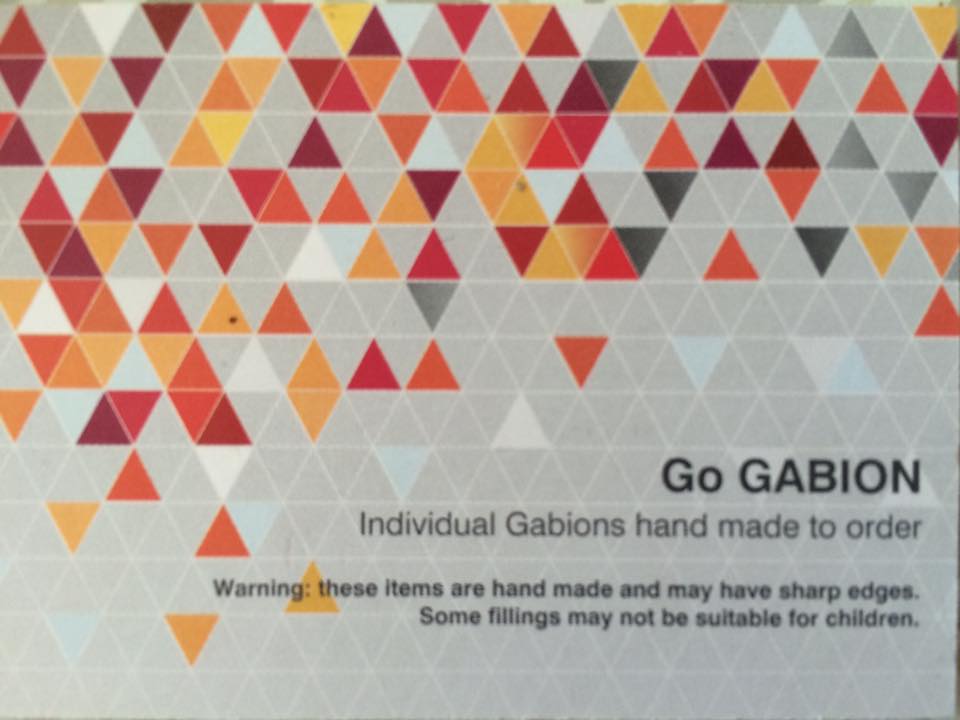 The final Beach hut on the parade belongs to Elaine Lloyd at Go Gabion who has been at East Beach Studios for 3 weeks, she was also the first lady I spoke to a few days before who recommended I visited on a Saturday to witness the Studios in their prime. What an amazingly inspiring lady with such a unique niche, making handmade to order Gabions from a variety of materials such as cardboard, pebbles and beach glass, clustered together in a metal wire frame to create a Gabion.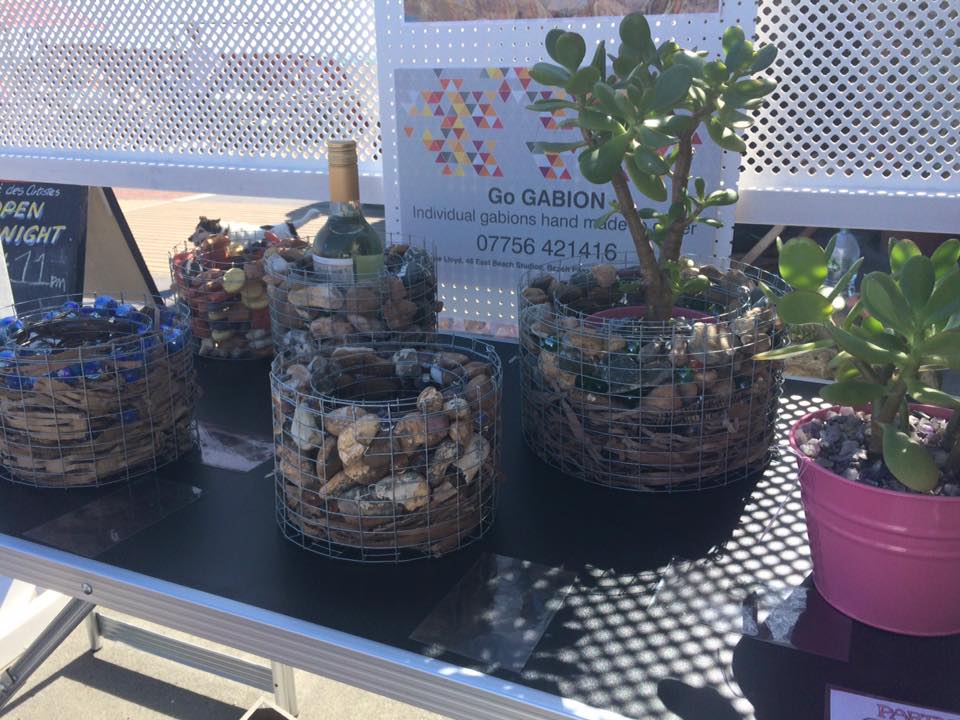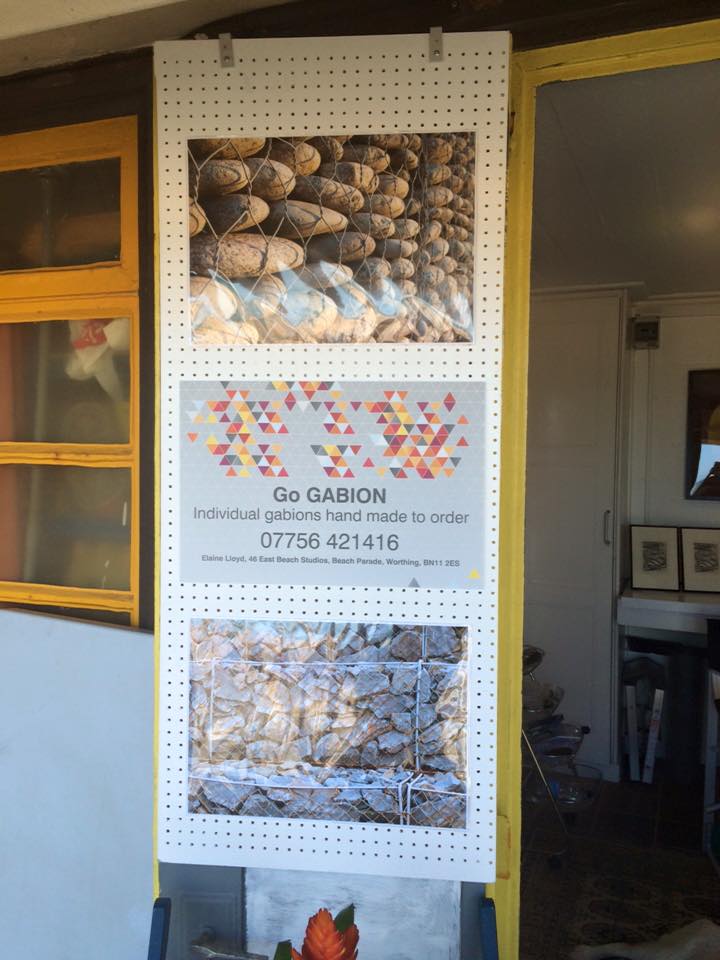 The possibilities are endless with what materials she uses, and what events they can be used at. At a kids party she could make them with sweets and at a wedding with pretty pebbles and confetti, and can be used for a number of purposes including a wine cooler and plant pot.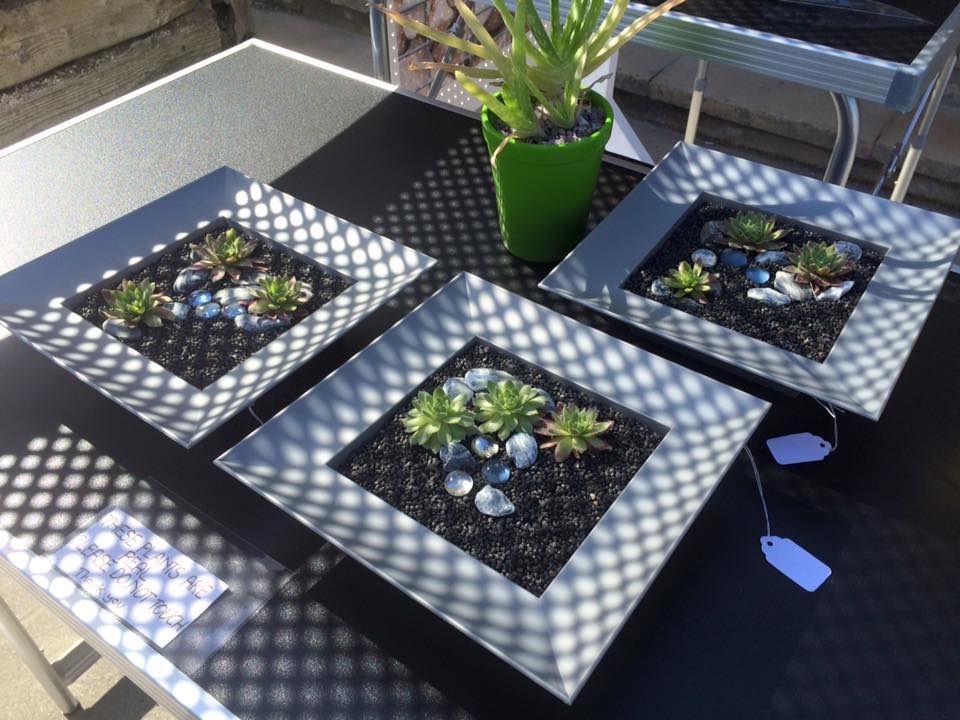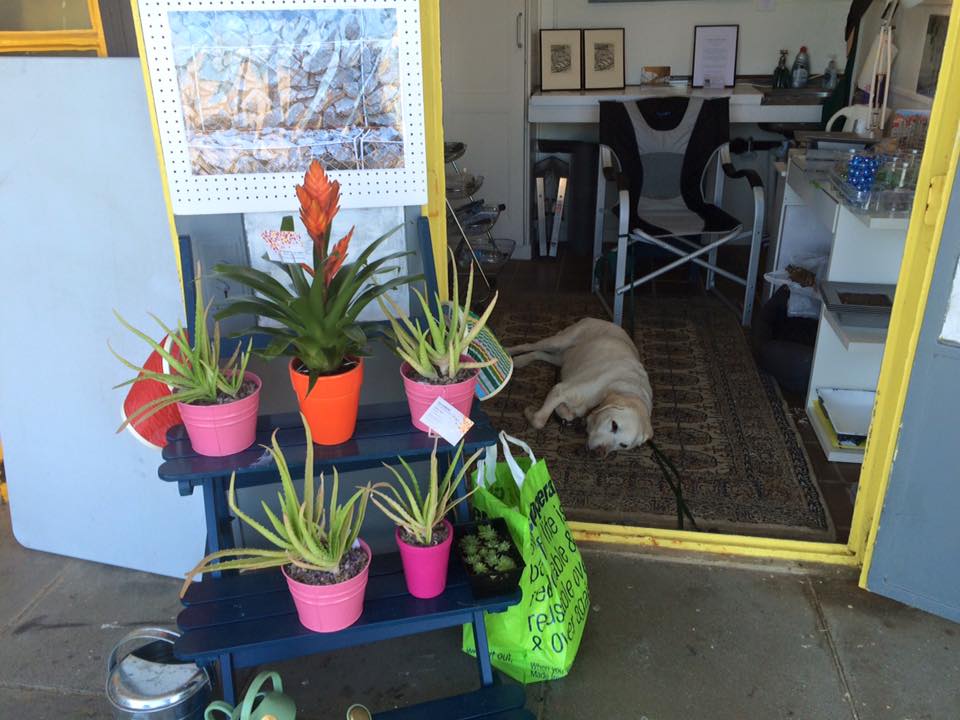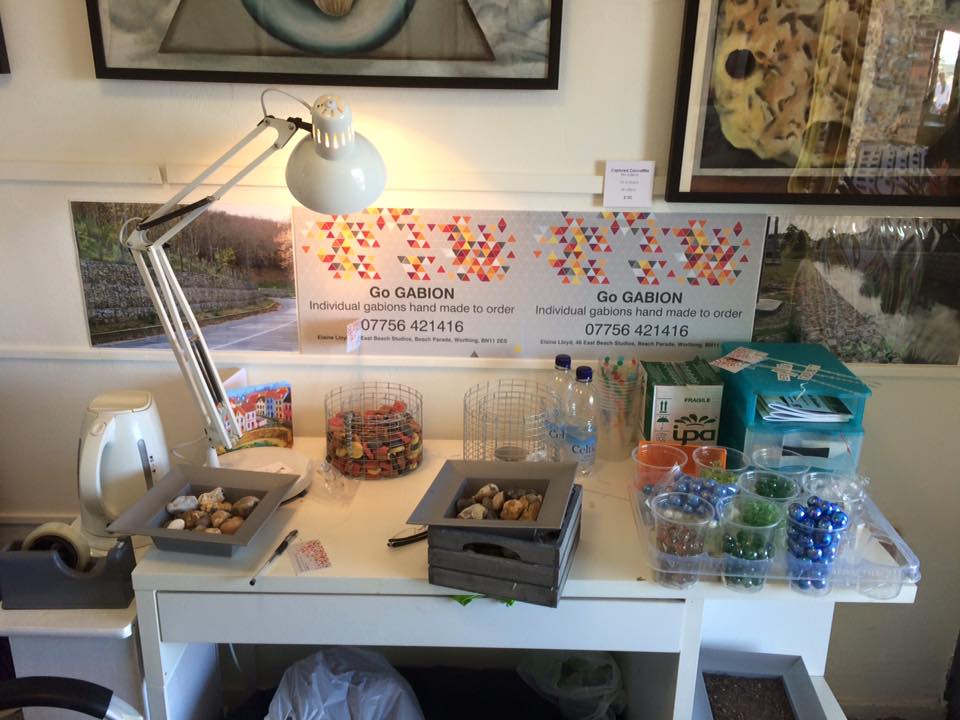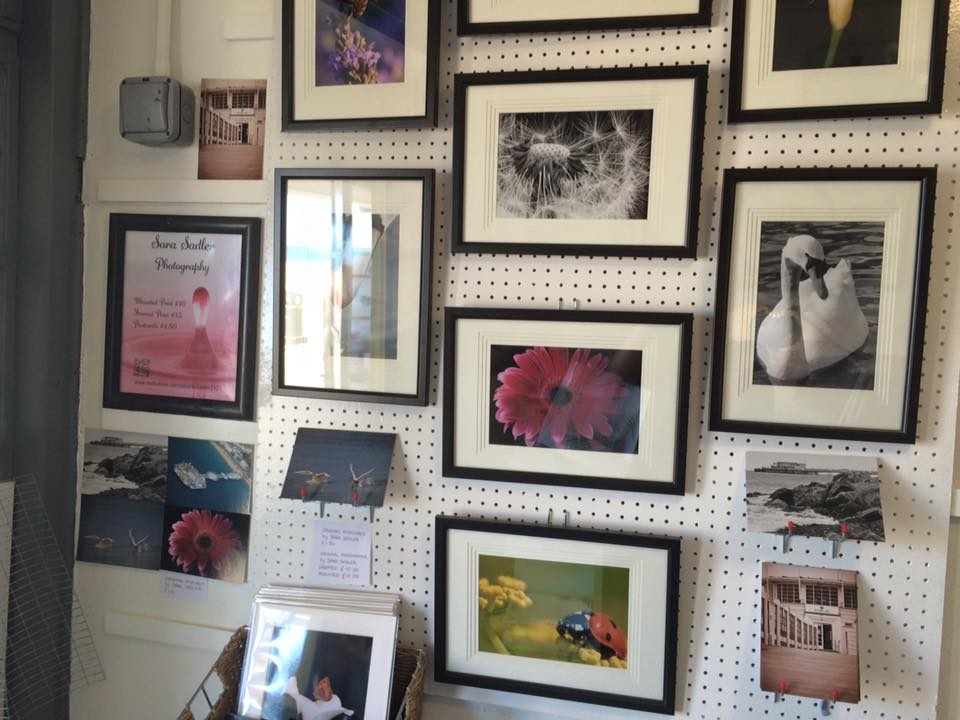 Elaine hasn't yet got her website up and running but i'll be sure to edit this post and link it in when she has. For now you can contact her at e.r.lloyd@hotmail.co.uk

---
What an inspiring group of artists! I absolutely loved speaking to them all and finding out about their passions and products. If you're not from the Worthing area, and planning a visit soon then East Beach Studios is a must see, along with a seaside lunch and delicious coffee from the famous Coast Cafe des Artistes!
I look forward to seeing more up and coming events and activities on the Artist Quarter!
You can find all of the Links needed for more information below!
East beach Studios – website
East Beach Studios – Facebook Page
Coast Cafe – Website
Coast Cafe – Facebook Page