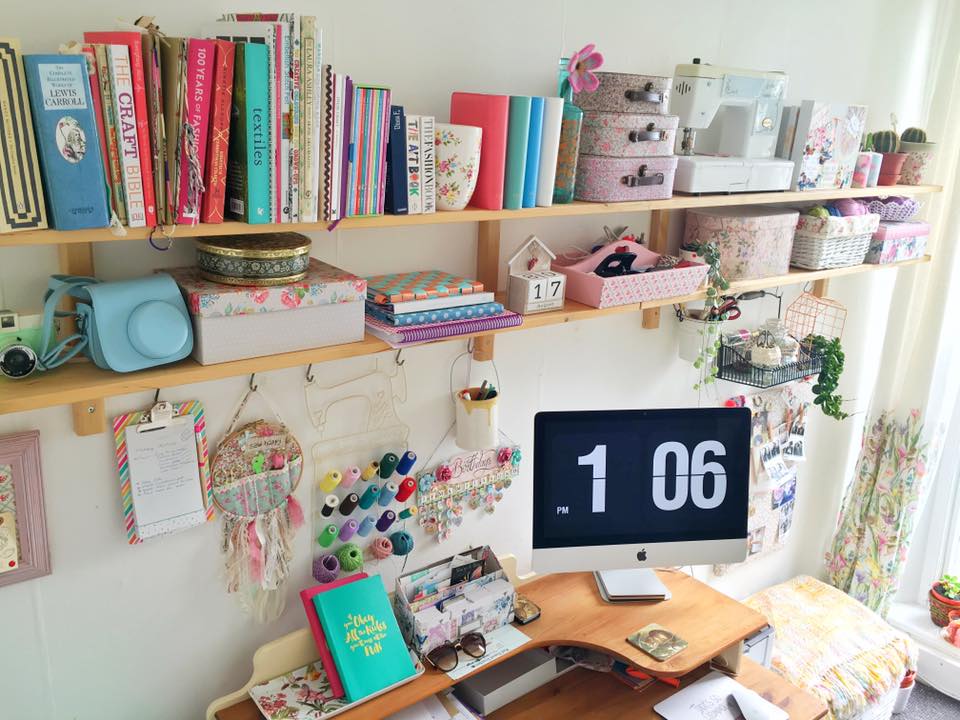 I have been wanting to write this post for AGES! I always see so many nice photos on Pinterest of everyone's personal work space, craft rooms and offices and I ogle over every single one! I always think it really depicts a persons individuality and gives you a sneaky insight to their style, personality and also the way that they work. I'm not going to lie, if you walked into my craft room at any other opportunity you would probably see piles of paper, fabrics and clothes smothered over all surfaces…especially the floor. I tidied just for you!
SO. I must say that I am very very aware that I am extremely lucky to be able to have my very own room dedicated to my work. Me and T live in a spacious 2 bedroom flat, and to begin with the second bedroom was used as his music room. Yes, I stole his room. I whipped his man cave away from him right under his nose and I transformed it in to my own craft space and office to work in when I am working from home. Before you ask, T was completely OK with the swap. I think he got extremely fed up with all of my 'craft tatt' constantly cluttering the living room floor (again with the floors). I had all of my stash kept in one corner of the living room on a desk, but it became very clear over time that the desk was not an adequate size to store all of my stuff with just one piddly cupboard and draw. It was more like my desk was there to support the toppling piles of STUFF rather than keeping it stored neatly away…Ah, a crafter's life.
Since moving in to the room I have meaning to do an updated 'this is my space' post. I've been waiting for the right time though as I now feel fully settled in. My desk now sits clutter-free in the centre of the main wall holding my new iMac,  and I was very lucky to be given 2 unwanted shelving units (thanks Grandma!) from Ikea. The shelves have two layers and a bar which hangs parallel below with metal hooks to hang things on, I absolutely LOVE this feature!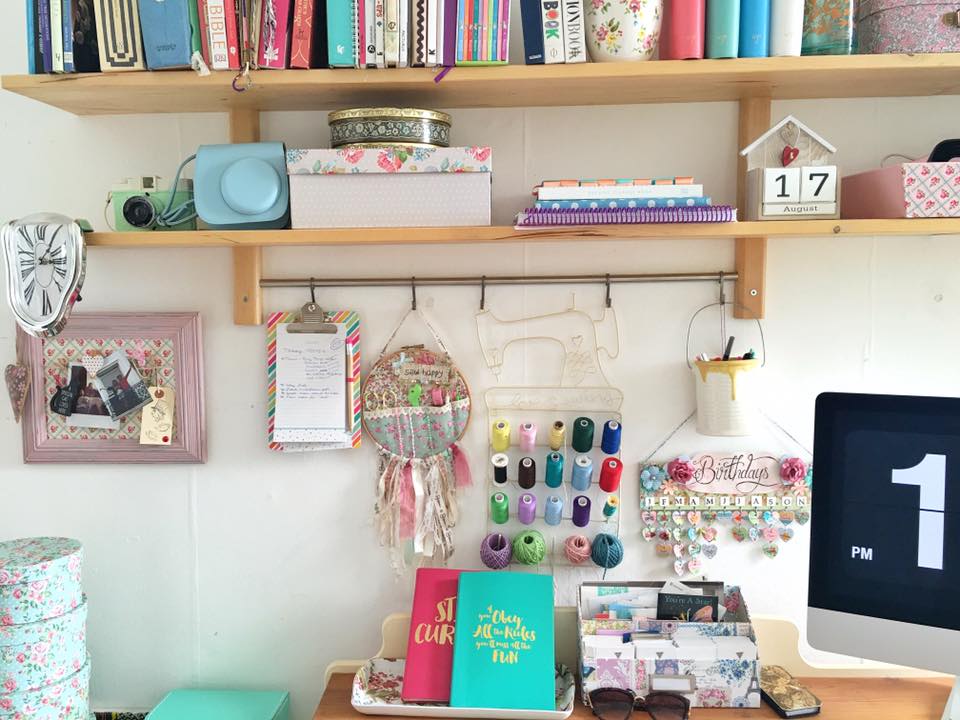 I use the hanging space to show off my handmade Embroidery Hoop Holder and also my handmade Birthday Calendar Wall Hanging. It's fantastic as it stops me from making any more unnecessary holes in our walls. I have bad habits with a hammer and nail. I also display my clip board notebook that I regularly write To Do lists on – it's handy to see it hanging right there in front of me.
On the top shelves I store my books, planners and storage boxes which each contain different materials or craft supplies. I have boxes dedicated just to ribbons, buttons, stickers and washi tapes. I also have a box solely used to store paper straws… We all know I love paper straws.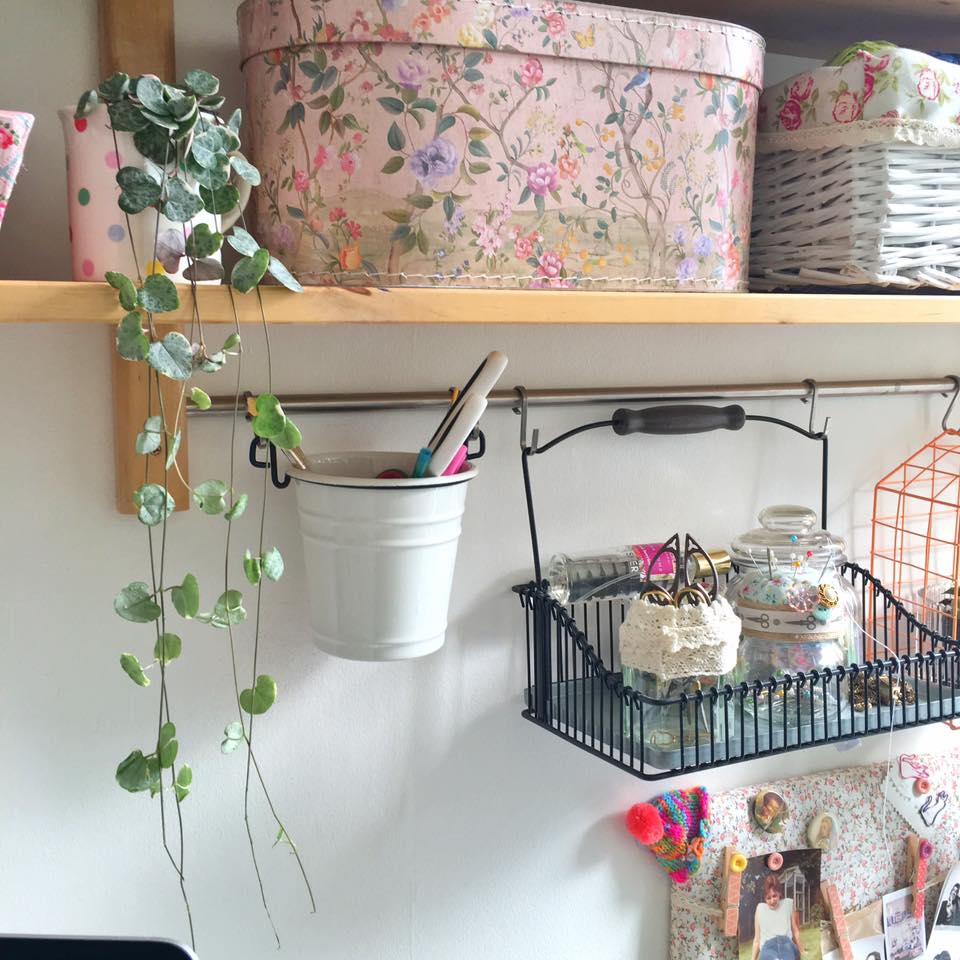 In the centre of my shelves I can now proudly display my decoupaged pot holder which was feeling pretty sorry for itself shoved away in a cupboard for no one to see. It really was so nice to lay out all of my things exactly how I had wished and imagined it to be.
Next to the window I have a wicker basket which is actually stuffed with bedlinen (non craft related!) but I keep it with a blanket on top to sit on by the window. Above it hangs my DIY Noticeboard with special photos and memories displayed – To be honest I need to make it look a little less scruffy!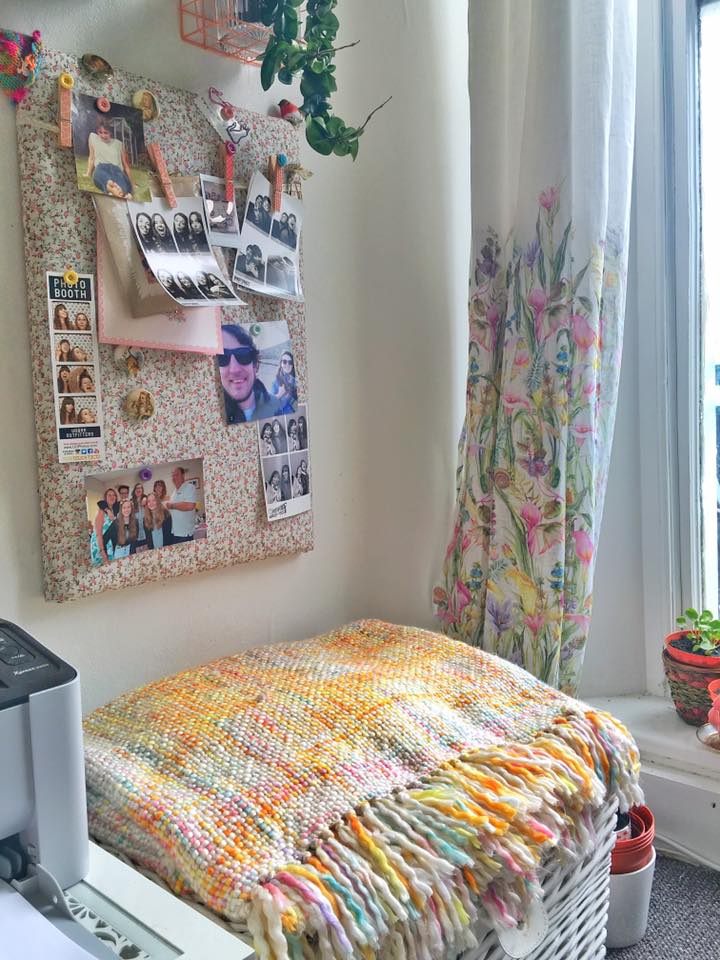 You can also see a pile of plant pots poking out from behind the basket…evidence of my new obsession. Over the past couple of months I have been building a collection of succulent plants to sit on my south facing window sill. I've been very inspired to go botanical and have been learning a lot about each plant too. Now that I have the perfect window sill to keep them happy, I think it's safe to say I have let it get a little bit out of hand but they're all so cute and are perfect for photography.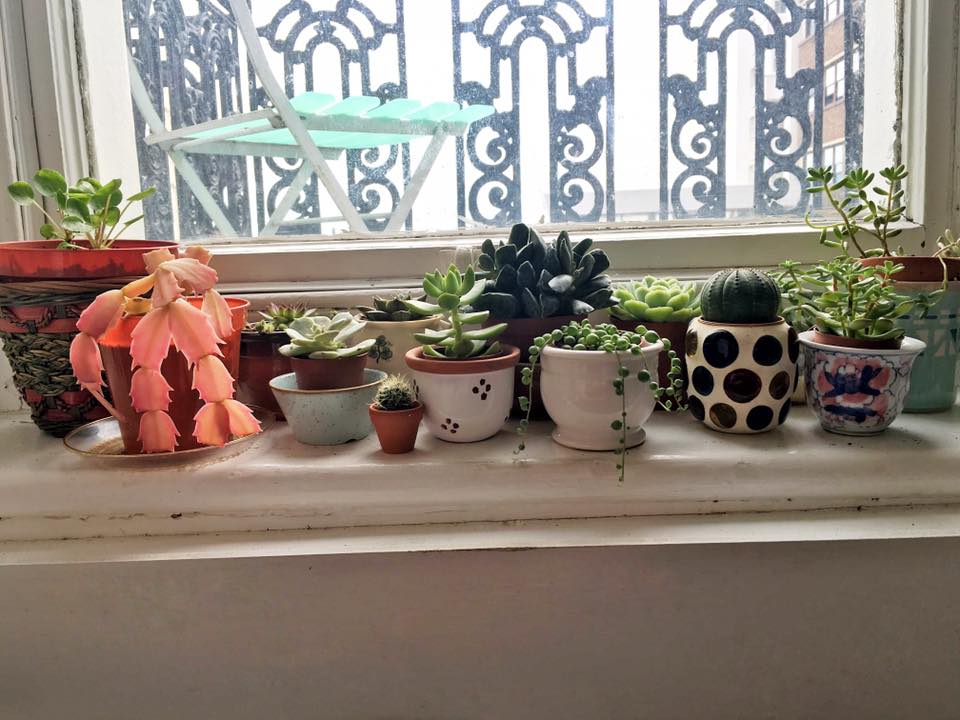 My most recently purchased plants are trailing down from my shelves. The trailing hearts plant and the Hindu rope plant – they're perfect for adding a bit of life and nature in to a room. I bought them from Spider Plant Shop in the North Laines in Brighton – a must visit if you're in the area!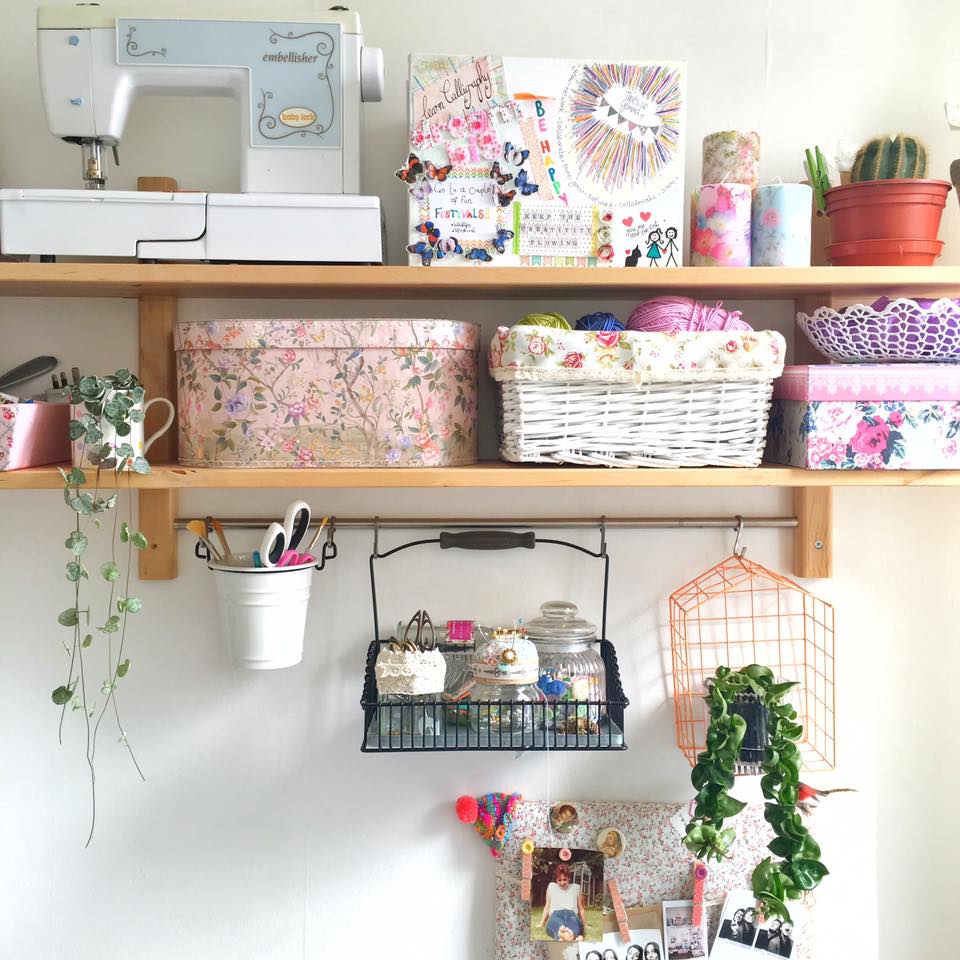 And that's it! My pride of place and my very own space. I love the days when I can work from home and sit here with a nice cup of tea in my room. I really am very lucky.
Hope you all have a fantastic week!
*EDIT* I would like to mention that one thing I did not update was my cube calendar! I'm a month behind… Whoops!